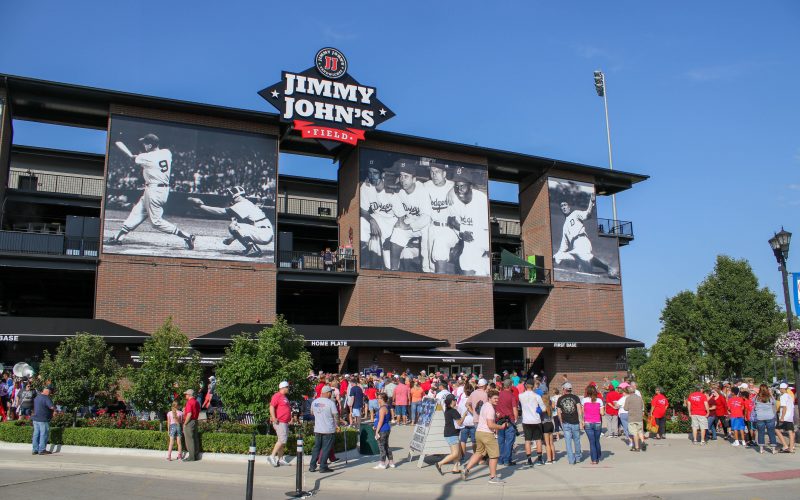 Championship Weekend at Jimmy John's Field
September 7th, 2021
UTICA, Mich. – The USPBL powered by UWM will be hosting its playoffs in historic downtown Utica, Mich., this Friday through Sunday.
The Utica Unicorns finished the regular season in first place and will get a berth in the league championship game on Sunday, Sept. 12 at 1:05 p.m. The Unicorns were led all year by Drue Galassi, who finished second in the home run race, with eight, and first in RBIs, with 27.
The No. 2 seed is the Eastside Diamond Hoppers, which earned a bye into the semifinal game, held Saturday at 7:05 p.m. The Hoppers will battle the winner of Friday's 7:05 p.m. game between No. 3 seed Westside Woolly Mammoths and the No. 4 seed Birmingham Bloomfield Beavers.
The playoff seeds were finalized the last week of the regular season with the Hoppers and Mammoths deciding the No. 2 on Friday night with Eastside's 9-3 victory behind right-hander Adrian Cook, who earned his fourth win of the season. Pedro Castellano had two hits and one home run and Joe Burke had two hits with four RBIs.
Among the league leaders during the regular season were Felix Aberouette, the Mammoths' Lamar Briggs with a .359 batting average, ranks in the top five in the USPBL in many offensive categories, including slugging percentage (.547), on base percentage (.433), runs scored (26), hits (42), RBI (24) and home runs (6).
The top pitchers during the regular season were Zack Jones from the Unicorns and Greg Loukinen from the Mammoths. Jones finished 3-1 with a 1.02 ERA and Loukinen was 5-2 with a 1.39 ERA and a .150 opponents' batting average.
It has been a successful year for the USPBL in building upon its reputation for getting players signed to major league franchises. Each team had one player sign contracts with a major league organization – Jordan Carr (Unicorns), Malik Barrington (Beavers), Jackson Hicks (Mammoths) and Ricardo Velez (Hoppers). A total of 45 players overall have signed out of the USPBL.
A limited number of tickets still remain for Championship Weekend presented by OUR Credit Union. Learn more by visiting USPBL.com.
#BringingBackTheFun