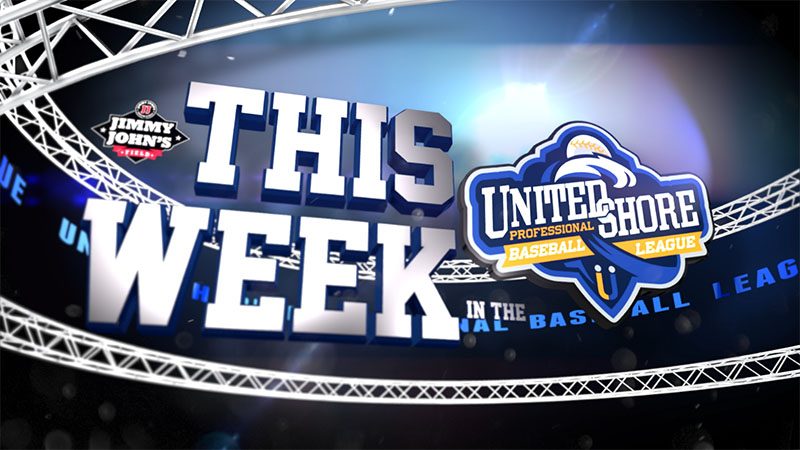 This Week in the USPBL – Episode 8
July 2nd, 2019
2019 Standings | 2019 League Leaders
ROCHESTER, Mich. – The United Shore Professional Baseball League witnessed its 30th player signing this past week as Westside Woolly Mammoths Josh Hejka signed with the New York Mets. The Woolly Mammoths are the hottest team in the league, winning seven of their last eight games, to highlight This Week in the USPBL.
After the Utica Unicorns raced off to the best start in league history, the Woolly Mammoths made the best of the USPBL Senior Showcase and added some new pieces. Alec Craig is one of them, batting .500 and stealing a league-best 10 bases. His teammate Sonny Cortez continues to be one of the best players in the USPBL, hitting .376 with a league-best 23 runs scored.
The Unicorns' Jimmy Latona leads the league with six home runs, while the Beavers' Adam Gauthier is one behind with five. Local product Pat Adams, from Warren, Mich., leads the USPBL with a .385 batting average and .533 on-base percentage. He is currently on a 10-game hitting streak and has reached base safely in all 23 games for the Diamond Hoppers.
Right-handed hurler Donald Goodson, a native of Detroit, has been dominating out of the bullpen for the Unicorns. He leads the league in ERA (1.67) and opponent batting average (.159). Starting All-Star Game pitcher Spencer Stockton leads the league in wins (3), strikeouts (46) and innings pitched (45.0).
Fireworks will be on display all weekend at Jimmy John's Field in historic downtown Utica with a Fourth of July game, Friday Fireworks Spectacular, and then the Rawlings Home Run Derby and All-Star Game. For additional information and tickets, visit HERE.
#YourSummerDestination