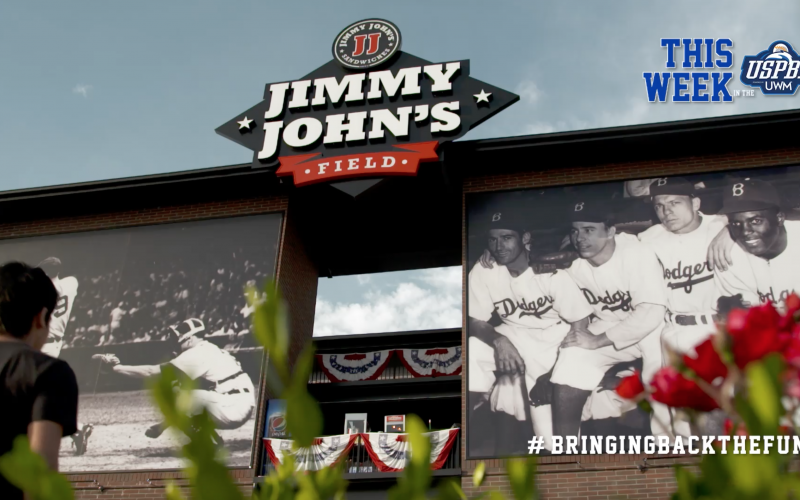 This Week in the USPBL, Ep. 1
June 8th, 2021
ROCHESTER, Mich. – The USPBL powered by UWM produces a bi-weekly show every Tuesday during the season (May 28-Sept. 12) that touches on the highlights from the previous two weekend's games and previews what's next at Jimmy John's Field in downtown Utica. The show includes highlights, testimonials and upcoming promotions.
The 2021 season started with a re-match of the 2020 Championship Game between the back-to-back Champions, the Utica Unicorns and the Birmingham Bloomfield Beavers. The Unicorns won 5-4, in dramatic fashion in extra innings when Malik Blaise crossed the plate on a Jon Hodo fielders choice.
The Eastside Diamond Hoppers and Westside Woolly Mammoths took the field for the first time in 2021 for game two. Ty Tracy pitched 5.0 innings for the Hoppers, only giving up one run, picking up the win. Greg Vaughn Jr. went 1-2 with one RBI as the Hoppers won 3-2.
May 30th was bark in the park at Jimmy John's Field. The Mammoths shut out the Beavers 5-0. Spenser McGhee hit the first home run of the 2021 season, going 3-4 with three RBIs, leading the Mammoths to their first victory of the season.
Opening Weekend ended with a Memorial Day game between the Unicorns and Hoppers. The bats were hot for the Unicorns, with Drue Galassi going 3-3 with four RBIs and Noah Childress hitting his first home run of the season with the game ending in a 9-2 victory for the hometown team.
Weekend number two welcomed back fans at 100% capacity. Thirsty Thursday deals we flowing and the Birmingham Bloomfield Beavers earned their first win with AJ Kullman on the mound. AJ tossed 5.0 scoreless innings and striking out seven. Roy Verdejo and Travis McFarland both hit two home runs.
Our second Fireworks Spectacular show started after Trey Bigford and the Westside Woolly Mammoths picked up their second win. Trey notched two RBIs and pitchers Greg Loukinen and Collin Ledbetter picked up their first win and save, respectively.
The Mammoths continued their win streak on Saturday, shutting out the Beavers, 4-0. Jackson Hicks shinned on the mound, throwing 6.0 innings of work, allowing two hits and striking out six.
USPBL games are played at Jimmy John's Field and fans can purchase tickets here.
#BringingBackTheFun