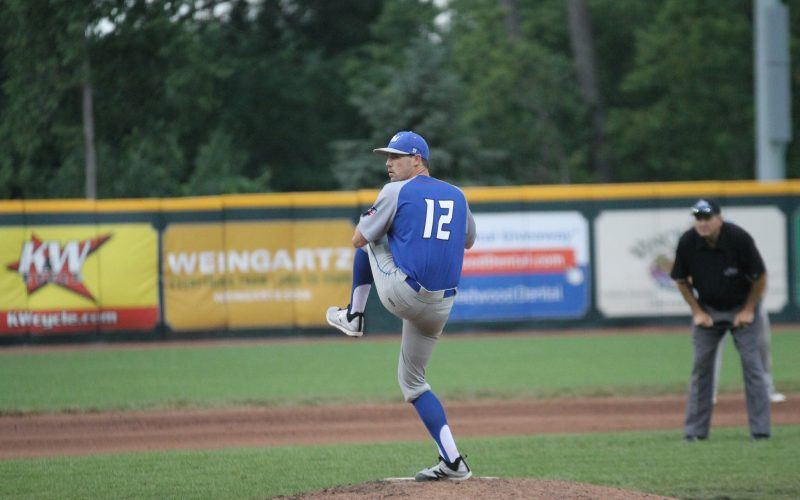 Holcombe Throws One-Hitter in Mammoths 3-1 Win
By Steve Marowski
Westside Woolly Mammoths 3 vs. Utica Unicorns 1
Utica — Westside Woolly Mammoths starting pitcher Jeremy Holcombe stole the show at Jimmy John's Field against the Utica Unicorns with 7.1 innings of no-hit baseball as he led the Mammoths to a 3-1 victory.
Holcombe gave up just one hit, walked three and had nine strikeouts. He now has seven wins on the season, three more than any other pitcher in the USPBL.
"My fastball had some life to it tonight, and I really just started working on my slider in the last couple of weeks and it was there tonight," Holcombe said.
In his first USPBL at-bat, Jalin Lawson hit an RBI single to left field to give the Mammoths a 1-0 lead in the bottom of the second inning.
The Mammoths added two more runs in the bottom of the sixth inning on RBI singles from Ethan Wiskur and Kyle Hamner.
Wiskur finished the night 2-3 with a walk, an RBI and a run scored.
"[Jeremy] didn't let the conditions get to him tonight," Mammoths Manager Shane McCatty said regarding a damp field due to rain. "Starting pitchers are creatures of habit and he did a really good job adjusting."
Unicorns starting pitcher Cody Brown threw six innings, gave up three runs and struck out six in his outing.
Upcoming Games
Saturday, August 12, Utica Unicorns vs. Eastside Diamond Hoppers, 7:05 p.m. (WYCD Country Music Night/Family Campout)
Sunday, August 13, Birmingham-Bloomfield Beavers vs. Westside Woolly Mammoths, 1:35 p.m. (Spongebob)
Standings
1. Birmingham-Bloomfield Beavers 21-19
2. Eastside Diamond Hoppers 20-19
3. Westside Woolly Mammoths 19-19
4. Utica Unicorns 19-22