Beavers Damn The Mammoths, 3-2
June 26th, 2022
UTICA, Mich. – Trevor Jackson got his first win, pitching 7.0 innings, scattering three hits and striking out eight batters as the Birmingham Bloomfield Beavers (5-9)  beat the Westside Woolly Mammoths (5-9), 3-2 on a beautiful Sunday afternoon at Jimmy John's Field.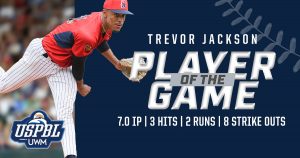 Catcher Felix Aberouette went 2-for-3, and Marcos Castillo had another great game with one hit and two RBIs. Nick Shaw pitched 1.0 inning of relief, striking out two.
The Mammoths attempted a comeback in the top of the eight inning. Lead-off hitter Buddy Dewaine Jr. hit his second home run of the season. Starting pitcher Adrian Cook went 4.2 innings, striking out four.
The Beavers will be back in action on Friday, when they take on the Hoppers. It's Canada Day presented by Crown Royal, with an amazing fireworks spectacular show after the game!
#SummerNightsUnderTheLights