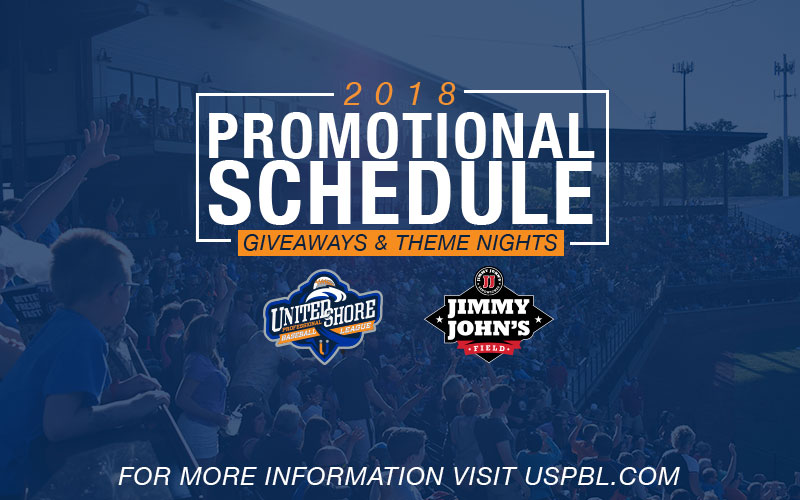 USPBL Releases 2018 Promotional Schedule
February 22nd, 2018
ROCHESTER, Mich. ­– The United Shore Professional Baseball League announced its Promotional Schedule for the 2018 season on Thursday. The promotions this year are a strong balance of new innovative nights with a mix of fan favorites from seasons past. This marks the third season for the USPBL with the Birmingham Bloomfield Beavers, Eastside Diamond Hoppers, Utica Unicorns and Westside Woolly Mammoths competing at Jimmy John's Field in historic downtown Utica, Mich.
Opening Weekend, May 11-13, will feature Fireworks Friday, WCSX Classic Rock Saturday and Sunday Fun Day. Making their debut this season will be JJ The Field General Bat Dog and the USPBL Dance Crews, which will perform at every game. The USPBL will recognize last year's champion, the Birmingham Bloomfield Beavers, with a ring ceremony and special flag raising on opening night. The first 750 fans through the gates all weekend long will receive a 2018 USPBL Schedule Magnet giveaway.
Ticket packages are now on sale through the ticket office at 248-601-2400 ext. 2. Single-game tickets will go on sale at a later date, closer to the start of the season.
Below are some highlights of the 2018 promotional calendar. To see the season long promotional schedule, please click here.
Top Promotions of 2018 (Kids run the bases after every game)
May 11 – Opening Day – Fireworks, JJ The Field General
May 28 – Memorial Day and Sunglasses Giveaway
June 28 – Human Cannonball
July 4 – Fireworks Spectacular
July 7 – Home Run Derby and All-Star Game
July 19 – Star Wars Night
July 22 – Lego Day
Aug. 2 – Peanut Free Night
Aug. 9 – JJ The Field General Bobblehead Giveaway
Aug. 11 – ZOOperstars!, the top promotion in professional baseball
Aug. 12 – ZOOperstars!, the top promotion in professional baseball
Aug. 24 – Detroit Pistons Night
Aug. 30 – Upside Down Straight Jacket Escape featuring Anthony Grupido
Live Music Featuring:
Season Long Promotions:
Thirsty Thursdays featuring $2 Budweiser and Bud light (12 ozs); $5 Craft Beer Specials; Anyone with College ID will receive a free Koozie and $2 off any grandstand ticket
Fireworks Friday will showcase a spectacular fireworks program immediately following the game
WCSX Classic Rock Saturdays and Country Music Saturday nights will feature pregame and in between inning performances from the Dana St. Clair Stage on the lawn in right center field
Sunday Fun Days featuring characters presented by Fairytale Entertainment:
About United Shore Professional Baseball League 
Rochester, Michigan-based General Sports and Entertainment founded the United Shore Professional Baseball League (USPBL), an independent professional baseball league in metro Detroit in 2015. The league plays in the new state-of-the-art $17 million dollar ballpark named Jimmy John's Field, located in Historic Downtown Utica, Mich. The first of its kind for the region, the USPBL provides a fun and exciting family atmosphere while showcasing top baseball talent from across the country and world to fans of all ages. The USPBL currently features four teams – the Utica Unicorns, Eastside Diamond Hoppers, Birmingham Bloomfield Beavers and Westside Woolly Mammoths. The USPBL's 2018 baseball season will begin May 11 and will run through Sept. 9. Additional teams and ballparks will be added in future years.
#YourSummerDestination