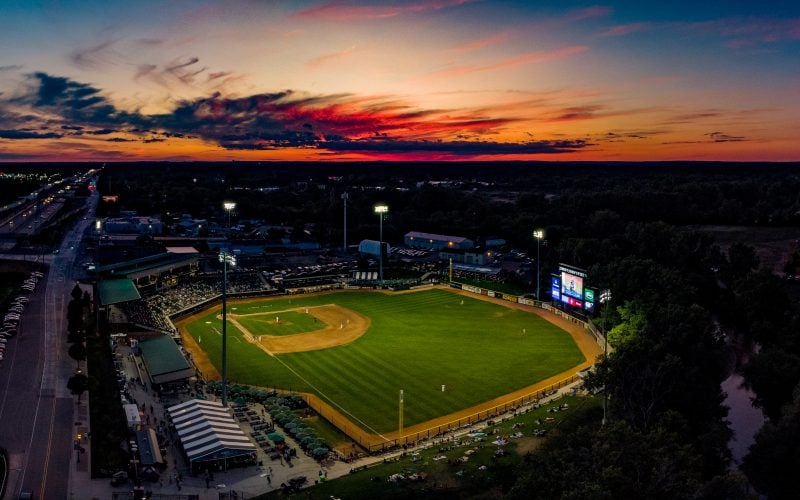 USPBL Knocks 2019 Out of the Park
October 4th, 2019
ROCHESTER, Mich. – The United Shore Professional Baseball League ended with the most successful Championship Weekend in league history, setting a single-game attendance record of 4,926 in the USPBL Championship Game, nine players were signed by Major League Baseball organizations and the league produced its first-ever Major Leaguer as former Utica Unicorns pitcher Randy Dobnak made his debut for the Minnesota Twins on August 9th. There were a record 62 sell outs in 75 games at Jimmy John's Field, and the USPBL was featured on ESPN3 for the second consecutive season.
"We're so thankful to all the fans in metro Detroit for a fantastic season," said Owner, Founder and CEO Andy Appleby. "We had such a tremendous final six weeks of the season and setting a new all-time single-game attendance record by nearly 500 tickets is incredible. Randy Dobnak became our first Major Leaguer, and we have a total of 36 players that have signed with Major League Baseball organizations. As a league, you always want to be trending upwards, and we have been able to do that through four seasons. I want to thank our staff for all their hard work and dedication in providing the Disney-like experience night in and night out."
The World-Class entertainment that came out to Jimmy John's Field in historic downtown Utica included the World-Famous Budweiser Clydesdales which made their first-ever appearance at the ballpark, Mutts Gone Nuts also performed at Jimmy John's Field for the first time, and the most popular act in professional baseball, the ZOOperstars!, made their way back to the ballpark in 2019.
The USPBL Kids Club continued to grow for the league in 2019 and the Reading Program reached record-setting numbers with over 50,000 participants. More than 1,000 charities leveraged the ballpark to help raise funds for their causes, and company summer picnics advanced to an all-time high this past season.
Here is a look at the 2019 highlights by the numbers:
1 – Former players in the MLB (Watch Randy Dobnak's debut for Twins)
2 – Luke Johnson made the No. 2 highlight on ESPN's SportsCenter Top 10 Plays of the Night
9 – Number of players signed with Major League Baseball organizations in 2019 (Full List)
10 – Games featured on ESPN3 platform this season
36 – Overall number of players that have signed with MLB organizations (Full List)
62 – Record number of sell outs in 75 games
1,000 – More than 1,000 groups held outings at the ballpark – from companies to churches to little league teams to non-profits holding fundraisers to high school marching bands and sports teams
4,926 – Single-game attendance record on Championship Sunday (Previous record was 4,499 back in August 2018)
53,558 – USPBL Reading Program that helps the community during March is Reading Month with appearances by mascots, coaches, and staff, and rewards kids that reach goals with a free ticket to a game
#MakeTimeForFun
#YourSummerDestination