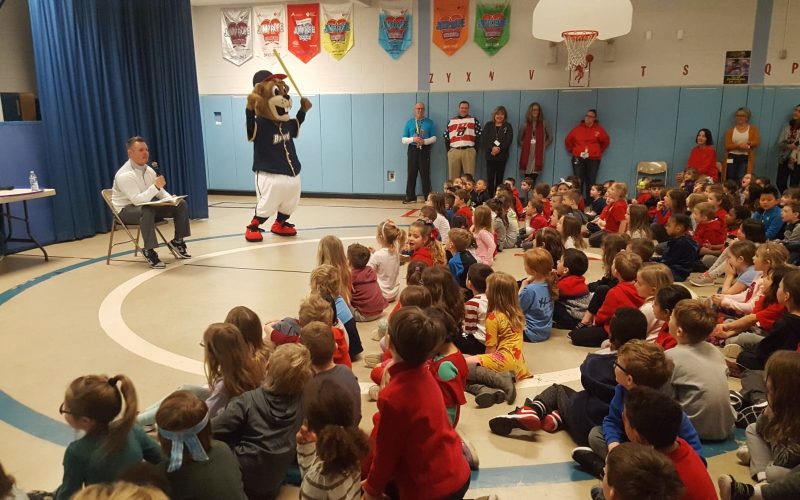 The USPBL Helps Local Schools March Into Reading Month
March 11th, 2019
View the 2019 USPBL Reading Program photo gallery.
ROCHESTER, Mich. – The 2019 United Shore Professional Baseball League Reading Program is in full swing as over 120 local elementary schools with a collective 50,000 enrolled students celebrate reading during the month of March. This challenge is offered to any school that wishes to provide a reading incentive to its students during National Reading Month. The 2019 USPBL Reading Program is proudly presented by Hungry Howie's and CGC Water Treatment.
"Reading is such an important skill to learn and the USPBL loves partnering with these schools in the community to make it a fun experience for these young boys and girls," said Vice President of Marketing and Public Relations Scott MacDonald. "Thank You to our Community Relations Coordinator Heather Cook for working so hard at creating a fantastic reading program that encouraged a record number of schools and students to participate. We cannot wait for these students to hit a grand slam and earn that free ticket to see a game at Jimmy John's Field."
The goal for each student is to hit a home run by meeting certain requirements during March. Educators will work with students to set the goals according to their reading level. The USPBL Reading Program also works well with schools who have chosen to weave the challenge into their reading month activities, such as awarding a ticket for participating in spirit days, or for the completion of the popular One School, One Book program. Some schools participating in the program have made the challenge their own, having classrooms compete against each other individually or dividing the rooms amongst the four teams, Birmingham Bloomfield Beavers, Eastside Diamond Hoppers, Utica Unicorns and Westside Woolly Mammoths. One teacher who chose to do this at a Fraser elementary school has an eventful month planned for her students participating in the USPBL Reading Program.
"Salk Elementary has participated in the USPBL's reading program for a few years and we love it so much that this year we decided to make baseball and 'Team up and READ! Everyone wins when you read!' our theme.
"Salk's 540 students have been divided into the four USPBL teams and are competing for the most minutes read. Students are also working individually to 'hit a home run' by participating in all four weeks to earn their free ticket to a USBPL game. The Unicorns, Hoppers, Beavers and Mammoths have taken over our hallways as we celebrate reading," states Salk Elementary Media Tech Assistant, Janet Kijek.
Every student that hits a home run, which can be a singular accomplishment or a series of goals, will receive one free ticket to a baseball game this summer at Jimmy John's Field (May 10-Sept. 8). Educators that assist with the program will also receive a free ticket, and family members of each student that hits a home run are offered discounted ticket options.
"I learned to read through collecting baseball cards when I was a young boy, so we understand how sports can make reading such a positive experience," said USPBL Founder and CEO Andy Appleby. "We once again reached record numbers in this program in our fourth year- and have developed a wonderful way to interact with the students in these great communities during March is Reading Month. We look forward to recognizing their great accomplishments at Jimmy John's Field."
#YourSummerDestination