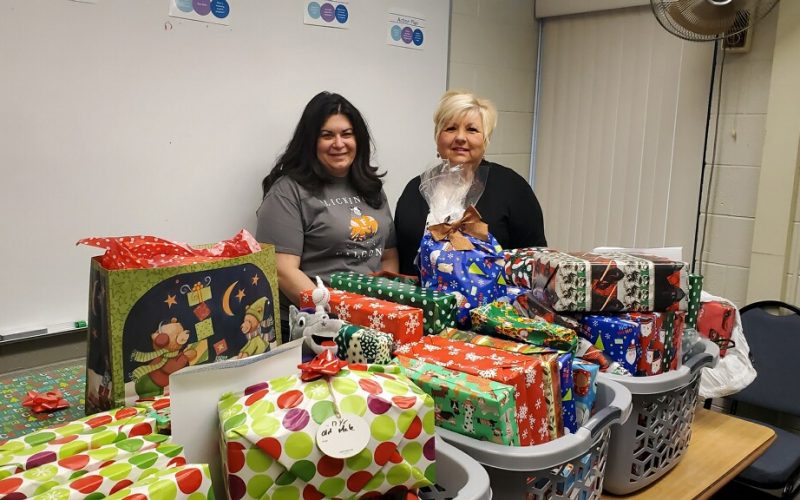 USPBL Host Family Program Gives the Gift of Baseball This Christmas
December 20th, 2019
UTICA, Mich. – December 20, 2019—The United Shore Professional Baseball League (USPBL), based out of Jimmy John's Field in downtown Utica, today announced that its Host Families adopted three local Utica families to support during the holiday season.  The USPBL always looks for ways to give back to its fans in the community. This giving season provided the USPBL Host Families with an opportunity to make a difference for local families in City of Utica with its adopt-a-family program.  Over 20 USPBL Host Families took part in making a difference for three local families at Utica Community Schools' own Flickinger Elementary by donating and wrapping gifts.
"I'm very proud of the USPBL host families with their generous hearts, not only during the baseball season but during the holiday season," said Sandy Wilton, the USPBL Host Family Director.  Donated gifts included USPBL tickets to 2020 baseball games at Jimmy John's Field, Utica Unicorns merchandise, gift certificates for groceries, winter coats, and new toys to help make a memorable Christmas morning.
"We are extremely thankful the USPBL Host Family Program selected our school. Our families will be beyond thrilled to receive these gifts and to create memories from this opportunity," said Flickinger Elementary school principal Nancy Brunetz, who accepted the donations on behalf of the families. "It's really exciting to help facilitate a nice holiday for the families. They all have their own story, so it's nice to add some brightness to their Christmas."
During the summer, the USPBL Host Families open their homes to baseball players from across the United States who are working to make their dream of playing in Major League baseball come true. If you would like more information on the program, please visit https://uspbl.com/community/host-family-program/.
#YourSummerDestination
#MakeTimeForFun