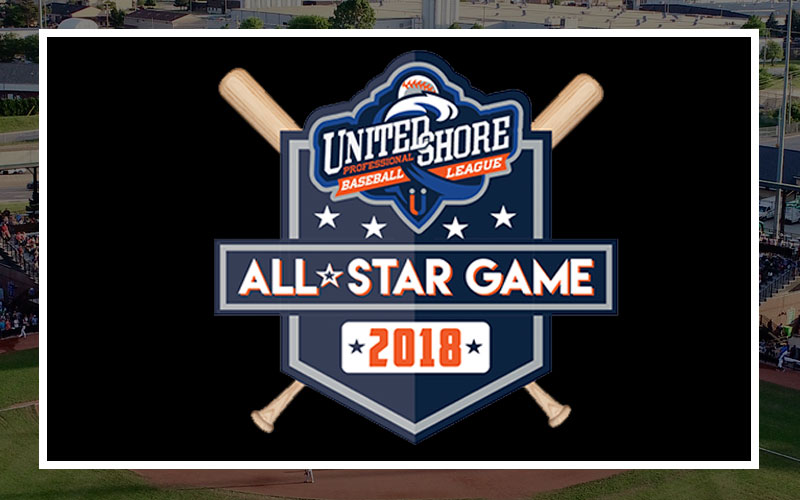 USPBL Announces Home Run Derby, All-Star Game Rosters
July 5th, 2018
2018 USPBL All-Stars & HR Derby Order
ROCHESTER, Mich. – The ultimate collection of star power in the United Shore Professional Baseball League was announced by Director of Baseball Operations Justin Orenduff on Thursday morning. The Stars of the USPBL will compete in the All-Star Game on Saturday at Jimmy John's Field in historic downtown Utica, Mich., immediately following the Rawlings Home Run Derby at 5:30 p.m.
The Eastside Diamond Hoppers hold a slim lead over first place at the midpoint of the season, checking in at 11-9. All four teams have at least 10 wins and the teams have combined for 62 home runs so far this season.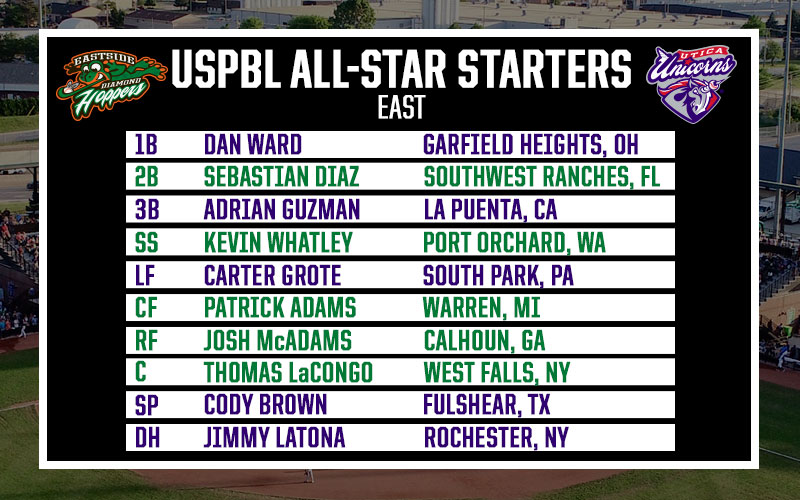 The Diamond Hoppers' Josh McAdams leads the USPBL with a .358 batting average and is tied for the lead with 18 runs batted in. The Calhoun, Ga., native boasts the league's best slugging percentage (.552) and on-base percentage (.470). McAdams will compete in the Rawlings Home Run Derby and will start in right field for the East All-Stars.
Birmingham Bloomfield Beavers' Jack Hranec will start at first base for the West All-Stars and ranks second in the USPBL with a .325 batting average. He is tied for fifth in the league with 16 RBIs and tied for sixth with three dingers.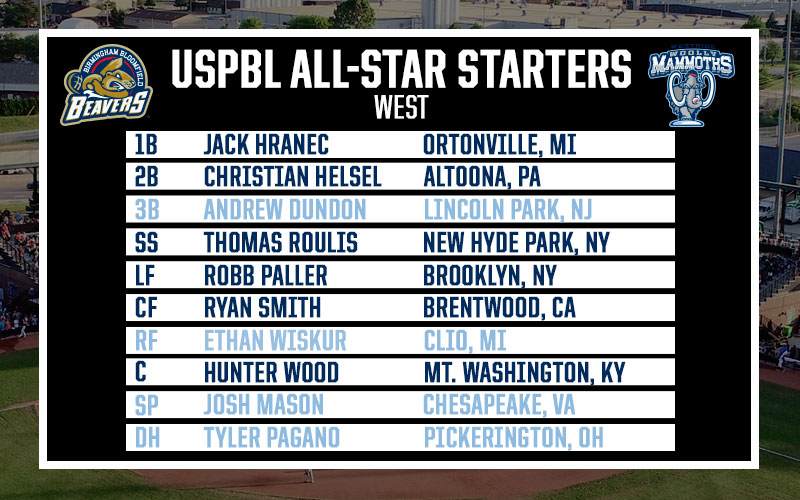 Starting pitchers Cody Brown (East) and Josh Mason (West) put on one of the best pitching duels last time that met up on Thursday, June 21, as they both threw complete games, with Brown edging Mason 1-0. Brown, a right-handed pitcher from Fulshear, Texas, leads the USPBL with 58 strikeouts in 50 innings pitched and is tied for second with three wins. Mason (RHP), a native of Chesapeake, Va., leads the USPBL with four wins and is second with 48 innings pitched, behind Brown.
The Home Run Derby will consist of two rounds of three minutes each (Top 2 advance to Round 2), and the final round will be four minutes. There will be a cumulative score each round and the final will match up the East versus the West for the USPBL Home Run Derby title.
McAdams will be joined in the East for the Home Run Derby by the reigning USPBL Player of the Week and Utica Unicorns' Dan Ward and Nicco Lollio. The West will have the Woolly Mammoths' Tyler Pagano and Ethan Wiskur, as well as the Beavers' Robb Paller.
The Rawlings Home Run Derby and All-Star Game will broadcast on ESPN3. Make sure you check out all the promotions for the day on a WCSX Classic Rock Saturday featuring Joe Fabulous Bad Company Tribute. Fans can purchase tickets online HERE or call the box office at 248-759-5278.
#YourSummerDestination