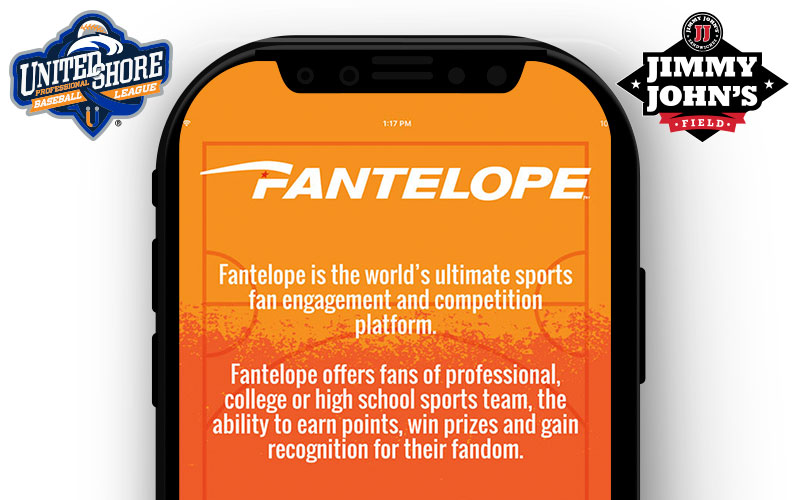 USPBL and Fantelope Partner to Bring Fan Reward App
June 12th, 2018
ROCHESTER, Mich. – The United Shore Professional Baseball League is pleased to announce a creative partnership with Fantelope, a fan engagement mobile app. Fans of any USPBL team, including the Birmingham Bloomfield Beavers, Eastside Diamond Hoppers, Utica Unicorns, and Westside Woolly Mammoths can download Fantelope on their smartphone, choose USPBL from the local teams tab, and start earning points and prizes.
"We wanted to reward our great fans by creating an app that gives prizes for their dedication and social media engagement," said Vice President of Marketing and Public Relations, Scott MacDonald. "Fantelope is an up and coming app that recognizes fan dedication to their favorite teams."
With the Fantelope app, USPBL fans can share photos and game day memories on Facebook, Instagram, and Twitter. Fans can also check in at Jimmy John's Field for points. When fans use the app, they earn Fantelope points, which can be redeemed for FREE USPBL tickets, special fan access, and concessions.
Fantelope is a fan engagement startup from Ann Arbor, Mich. Fantelope aims to be the world's ultimate fan competition and engagement platform. For more on Fantelope visit fantelope.com.
"The Fantelope app will make USPBL games even more fun! With Fantelope, fans can share photos on Facebook or Twitter, and the USPBL logo will show up in the corner. Fans can win some cool prizes from USPBL too." said Fantelope CEO and Co-Founder, Derek Mehraban.
500 Points – One Free Lawn Ticket to USPBL Game
1000 Points – Large Pop + Choice of Hot Dog or Popcorn
2000 Points – Two Free Backstop Tickets to USPBL Game
4000 Points – Two Free Front Row Club Tickets to USPBL Game
5000 Points – Photo with your family, kids, or baseball team on field with USPBL Team
#YourSummerDestination