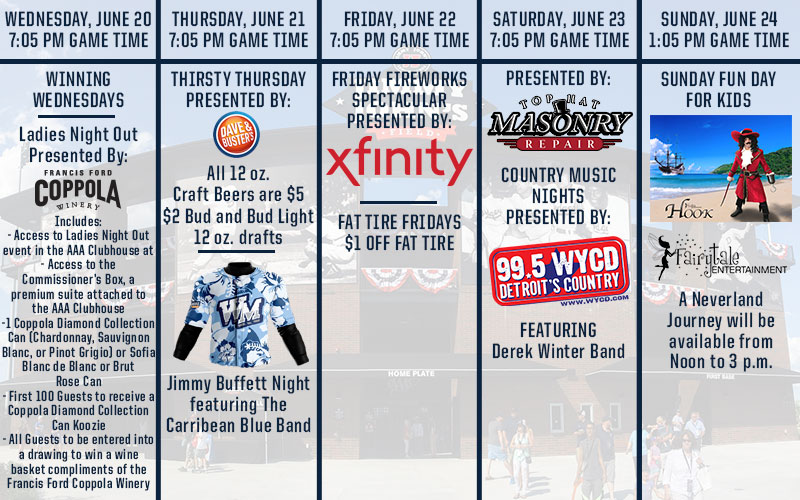 Upcoming Promotions – June 20-24
June 17th, 2018
Wednesday, June 20
Diamond Hoppers (9-6) vs. Unicorns (7-9), 7:05 p.m. (Gates open at 6 p.m.)
Buy Tickets
PROMOTIONS: Winning Wednesdays / Ladies Night Out presented by Francis Ford Coppola Winery
Ladies Night Out will feature drink specials on wine and mixed drinks, along with food specials.
There will be chances for fans to win prizes throughout the night, including t-shirts, softee ball tosses and additional in-game contests.
Ladies Night Out tickets include: Buy Tickets
Access to Ladies Night Out event in the AAA Clubhouse at Jimmy John's Field – Starts at 6:00 p.m.
Access to the Commissioner's Box, a premium suite attached to the AAA Clubhouse; provides a view of that night's USPBL baseball game between the Eastside Diamond Hoppers and the Utica Unicorns – game starts at 7:05 p.m.
Ladies Night Out Food Menu including:
o   Cheese Fondue Station
o   Arugula Salad with Lemon, Dill Cucumber and Feta
o   Chef Prepared Pasta Station including Shrimp & Chicken in either Pesto or Alfredo Sauce
o   Chocolate Fountain featuring fresh fruit, rice crispy treats, cookies, brownies, pretzel sticks and jumbo marshmallows
1 Coppola Diamond Collection Can (Chardonnay, Sauvignon Blanc, or Pinot Grigio) or Sofia Blanc de Blanc or Brut Rose Can
First 100 Guests to receive a Coppola Diamond Collection Can Koozie
All Guests to be entered into a drawing to win a wine basket compliments of the Francis Ford Coppola Winery.
Thursday, June 21
Unicorns (7-9) vs. Woolly Mammoths (7-7), 7:05 p.m. (Gates open at 6 p.m.)
Buy Tickets
PROMOTIONS: Thirsty Thursday Presented by Dave and Buster's/ Jimmy Buffett Night
Thirsty Thursday, presented by Dave & Buster's
Back by popular demand at Jimmy John's Field. This year, the USPBL will offer a $2, 12-ounce Bud or Bud Light, as well as a $5 Craft Beer specials. Any college student with ID, will receive a free Koozie.
Jimmy Buffett Night
Close your eyes and sail away to the Island of Friends, Fun, and Memories. The game will feature the Westside Woolly Mammoths wearing custom tropical-style jerseys, which are being auctioned online with 50% of all proceeds benefiting The Cassie Hines Shoes Cancer Foundation, which has a mission of guiding young adults with cancer to social support programs and services that can help them manage their mental healing as well as their physical battle. To bid on jersey, go to www.32auctions.com/wwm_jersey .
Caribbean Blue Band
The Jimmy Buffett tribute band will be playing all your favorite hits throughout the night on the Dana St. Clair Stage on the lawn in right center field.
#USPBLEats Food Specials
$5 Cheeseburger in Paradise Special Burger at the Grandslam Grill and Philly Cheesesteak stands
$3 Special on Dole Whip Pineapple Soft Serve Dessert at The Sweet Spot (Small Size)
Jerk Chicken Special in the AAA Clubhouse
Jimmy Buffet Night Pub Crawl
$3 Fresh Margaritas at Patron (1st & 2nd inning)
$3 Corona or Modelo Can at Import Stand (3rd and 4th inning)
$3 Strawberry Daiquiri at Right Field Picnic Bar (5th & 6th inning)
$3 Tito's Vodka & Lemonade at Tito's Stand (7th inning)
$4 Rum Runner Cocktail in the AAA Clubhouse (8th inning)
Friday, June 22
Woolly Mammoths (7-7) vs. Beavers (8-9), 7:05 p.m. start (Gates open at 6 p.m.)
Buy Tickets
PROMOTIONS: XFINITY Fireworks Friday
XFINITY Fireworks Spectacular Friday
Join us for a great night of professional baseball and a spectacular fireworks show immediately following the ballgame.
Founders Fridays
$1 off Founders in the Short Hops Craft Beer Garden.  Not applicable to the discount on Founders if the Beer Batter of the Game gets a hit.
Saturday, June 23
Beavers (8-9) vs. Unicorns (7-9), 7:05 pm start (Gates open at 6 p.m.)
Buy Tickets
PROMOTIONS: 99.5 WYCD Country Music Night – Derek Winters Band presented by Top Hat Masonry
99.5 WYCD Country Music Night
Grab your boots and head down to Jimmy John's Field for 99.5 WYCD Country Music Night. Come early and enjoy music from the Derek Winters Band as they play from the Dana St. Clair Stage during pregame and in between innings on the lawn in right center field.
Sunday, June 24
Diamond Hoppers vs Woolly Mammoths, 1:05 p.m. start (Gates open at Noon)
Buy Tickets
PROMOTIONS: Sunday Funday/ A Neverland Journey
Join us for a Sunday Fun Day in Neverland. Meet your favorite characters and fairy friends presented by Fairytale Entertainment.
**Characters will be at the main gates at Noon for meet and greets. They will be visiting fans around the ballpark from 1 – 3 p.m.
#YourSummerDestination