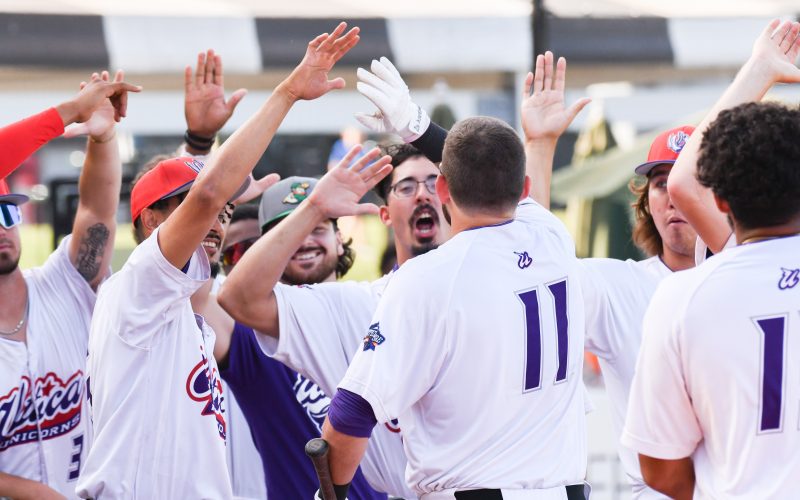 Unicorns Win In Sudden Death Over Hoppers, 0-0
June 25th, 2022
UTICA, Mich. – Perry Bewley shined in relief, pitching 2.0 innings, giving up no hits, no runs, no walks, and striking out four to lead the Utica Unicorns (12-2) to a 0-0 sudden death victory over the Eastside Diamond Hoppers (6-8) in game two of Saturday's doubleheader at Jimmy John's Field.
It was a pitching duel all game long. With not a lot of offense, Kenny Rodriguez, Malek Bolin, Leandy Castro, Matt Parkinson, and Luis Atiles each got on base for the Unicorns.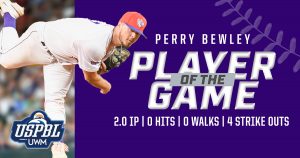 For the Hoppers, Andrew Verbrugge pitched 5.0 solid innings of work. He scattered four hits, gave up no runs, and struck out five. Offensively, only two Hoppers were on base.
The Hoppers scored no runs on three hits, with one error. The Unicorns scored no runs on five hits, and committed no errors.
The sudden death format is as follows: a coin toss will take place at home plate between the managers of both teams. The home team will call their selection as the umpire tosses the coin. The winner of the coin toss will select whether they will take the field defensively or bat in the inning. The team at bat will remain the same batting order as the previous inning with the hitter making the last out placed at first base. If the team scores a run, they win. If they are held scoreless, the victory goes to the team on defense.
#SummerNightsUnderTheLights