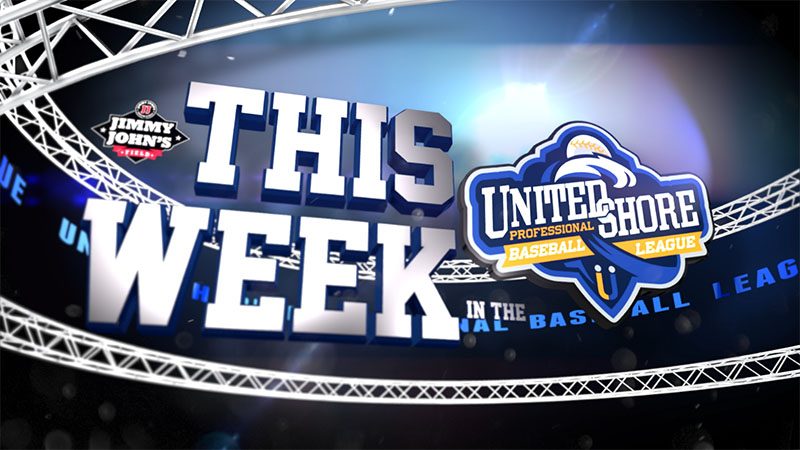 This Week in the USPBL – Episode 16
August 27th, 2019
ROCHESTER, Mich. – As the United Shore Professional Baseball League heads into the final week of the regular season, three teams still have a chance at the coveted No. 1 seed and automatic bid to the championship game on Sunday, Sept. 8. It's been a historical season as Randy Dobnak became the first Major Leaguer out of the USPBL, nine players signed with MLB organizations surpassing last season's total, and record-setting performances on the field to highlight This Week in the USPBL.
The Utica Unicorns (26-20) are the frontrunners for the top seed and are fighting for their second championship in four seasons. The Westside Woolly Mammoths (26-21) are just a half-game behind the Unicorns, and the two-time defending champion Birmingham Bloomfield Beavers (22-21-1) need a perfect week to have any chance at the top seed.
Westside Woolly Mammoths Ethan Wiskur is making a late run at Most Valuable Player accolades for a second straight season. Wiskur, a native of Clio, Mich., leads the USPBL with 12 home runs this season and is just one shy of matching the all-time record of 24 set by the Beavers' Nic Wilson (2016-17).
Ty Hensley has been dominating on the mound for the Unicorns as of late. A former first round draft pick of the New York Yankees, Hensley has doubled up his innings pitched this season at 62.2, surpassing his entire minor league career in one season. Hensley has thrown 6.0 innings or more in his last four starts and the Unicorns are 3-1 in those games. A native of Edmonds, Okla., Hensley was named USPBL Player of the Week for throwing 7.0 scoreless innings against the Beavers last Saturday night.
Eastside Diamond Hoppers Pat Adams continues to have a record-setting season going, breaking the single-season walks record with 45. A native of Warren, Mich., Adams has reached base in 43 of 46 games played for the Diamond Hoppers, and his .485 on-base percentage ranks second all-time in USPBL history.
The Beavers' Adam Gauthier is also making a charge for MVP accolades. The catcher from Naples, Fla., ranks in the top seven in nine offensive categories, including tied for second in runs batted in (34), third in batting average (.316) and on-base percentage (.443), and fourth in slugging percentage (.500).
The Mammoths' Matt Cronin has dominated on the mound and is a viable candidate for MVP and Pitcher of the Year. He is off to the best start in league history at 7-0 and leads the league with a microscopic 2.18 earned run average. His current ERA would set a new single-season league record for starting pitchers (Cody Brown, 2.25 in 2018) and he needs just one win to tie the all-time record for the USPBL with eight.
The Unicorns' third baseman Collin Ridout has been hot for Utica down the stretch. Ridout has a hit in 18 of his last 20 games, and ranks third in the league in hits (51) and fifth in batting average (.307).
The final regular season games of the season will run Thursday-Sunday, Aug. 29-Sept. 1. Then Championship Weekend, presented by OUR Credit Union, follows, Sept. 6-8, at Jimmy John's Field. Fans can purchase tickets at USPBL.com or call 248-759-5278.
#MakeTimeForFun
#YourSummerDestination