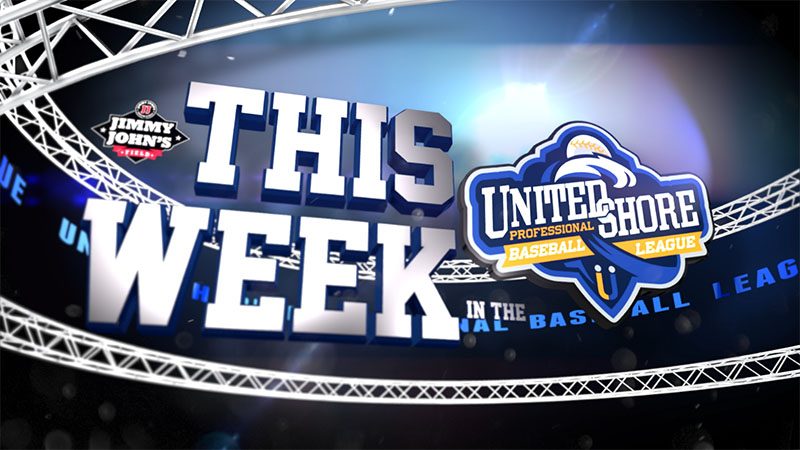 This Week in the USPBL – Episode 10
July 16th, 2019
ROCHESTER, Mich. – Former Utica Unicorns pitcher Spencer Stockton became the fifth player to sign this season with a Major League Baseball Organization, and 32nd overall from the United Shore Professional Baseball League since 2016, while the Birmingham Bloomfield Beavers climbed into first place in the standings to highlight This Week in the USPBL.
The Beavers have won six of their last eight games to take over first place in the USPBL standings at 15-11, a half-game lead over the Utica Unicorns at 15-12. The Westside Woolly Mammoths have won nine of their last 13 games and are one of the hottest teams since the Senior Showcase in mid-June.
MVP Candidate Pat Adams from the Eastside Diamond Hoppers continues to rank amongst the league leaders in almost all offensive categories. He has reached base safely in all 29 games for the Diamond Hoppers, and leads the USPBL with 29 walks and an impressive .496 on-base percentage. Adams, a native of Warren, Mich., is No. 2 in batting average at .340, trailing the Woolly Mammoths' Sonny Cortez at .352.


The Unicorns' Jimmy Latona leads the league with seven home runs and .550 slugging percentage, while the Beavers' Adam Gauthier and Ross Haffey are tied for second with five home runs with the Unicorns' Dan Elliott. Gauthier leads the league with 29 RBIs.
On the bump, the Mammoths' Ben McKendall has been the hottest pitcher in the league. He is currently 3-1, with a league-best 1.24 earned run average. His teammate, Matt Cronin, earned USPBL Player of the Week after throwing 6.1 strong innings last Friday and posting his first win of the season.


#YourSummerDestination