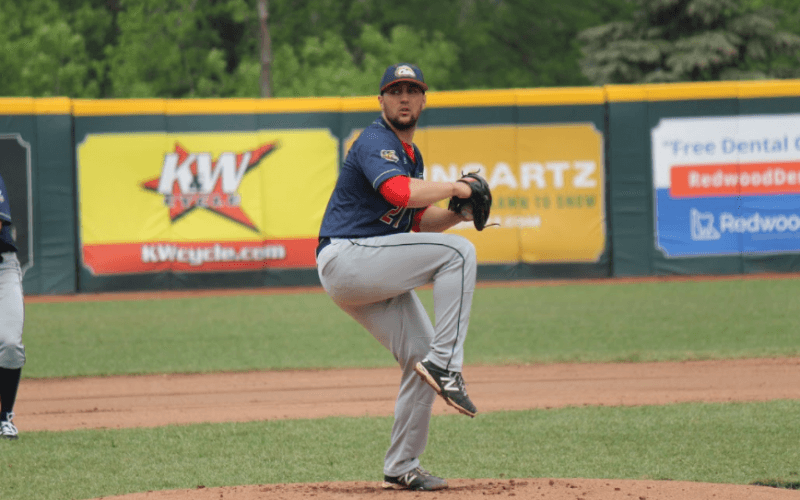 Matthews Throws No-Hitter in Shortened Game
May 21st, 2017
By Steve Marowski
Birmingham-Bloomfield Beavers 1 vs. Westside Woolly Mammoths 0
In a shortened game due to weather, the Birmingham-Bloomfield Beavers were able to defeat the Westside Woolly Mammoths, 1-0. Beavers starting pitcher Kevin Matthews threw the second no-hitter in USPBL history.
"My catcher did a good job calling the game," Matthews said. "I've been working hard mechanically, and I think some of that is starting to pay off a little bit."
Matthews threw all five innings for the Beavers and struck out 10. Of the 10 strikeouts, six were caught looking.
"At some point in the game, I lost the feeling for my fastball a little bit, and I had a feeling for my breaking ball for the majority of the game," said Matthews. "I trusted Bobby behind the plate and it worked out well."
Mammoths starting pitcher Jared Gaynor was also strong in his pitching performance. Through five innings, Gaynor allowed one run and scattered eight hits while striking out four.
"Tip your cap to Jared Gaynor," Beavers Manager Chris Newell said. "Jared epitomizes the position of pitcher, and he was great."
The only run of the game came in the second inning for the Beavers. After a single by Dan Kennon, Bobby San Martin doubled to give the Beavers a 1-0 lead.
"I'm partial to pitching," said Mammoths Manager Shane McCatty. "It was still fun to watch and it was a great outing by both guys."
Upcoming Games
Thursday, May 25, Birmingham-Bloomfield Beavers vs. Eastside Diamond Hoppers, 7:05 p.m. (Boy Band Night/Thirsty Thursday/Memorial Day Weekend All-You-Can-Eat Buffet)
Friday, May 26, Westside Woolly Mammoths vs. Utica Unicorns, 7:05 p.m. (Fireworks Friday/Memorial Day Weekend All-You-Can-Eat Buffet)
Saturday, May 27, Eastside Diamond Hoppers vs. Utica Unicorns, 7:05 p.m. (WCSX Classic Rock Saturday/Nurse Appreciation Night/Memorial Day Weekend All-You-Can-Eat Buffet)
Sunday, May 28, Westside Woolly Mammoths vs. Birmingham-Bloomfield Beavers, 1:35 p.m. (Helicopter Candy Drop for Kids/Memorial Day Weekend All-You-Can-Eat Buffet)
Monday, May 29, Utica Unicorns vs. Eastside Diamond Hoppers, 1:35 p.m. (USPBL Star Spangled Hat Giveaway/National Coney Island Memorial Day Ticket Offer)