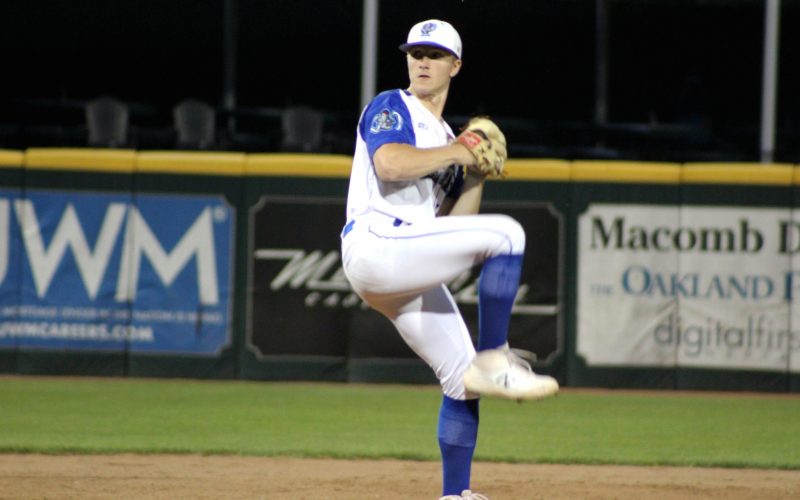 Mammoths Win Pitching Duel With Beavers, 1-0
June 21st, 2022
UTICA, Mich. – Greg Loukinen pitched 5.0 innings of work, striking out three and giving up only one hit as the Westside Woolly Mammoths (5-6) defeated the Birmingham Bloomfield Beavers (3-8) in game two of Saturday's doubleheader.
Duncan Hewitt scored the long run of the game, finishing his night 1-for-2.
Right-handed pitcher Trevor Jackson pitched a complete game for the Beavers, tossing 5.0 shut out innings, scattering four hits and struck out seven. Eric Whitfield and Cameron Collett each had a hit.
The Eastside Diamond Hoppers look to gain one game back as the face the no. 1 team in the standings, the Utica Unicorns. It's Father's Day presented by Kozak's Mr. Muffler. Spend a day at the ballpark with your dad! First pitch is at 1:05 pm; gates open at Noon.
Let's help our furry friends in need. This weekend our friends at Chevy Detroit are collecting pet supplies that will directly benefit Fido & Fluffy's Rescue. If you have tickets to a game, please bring a donation and place it in the Silverado tailgate. You can also stop into any local Metro Detroit Chevy Dealership to make a donation. For a wish list and more information visit chevydetroit.com/pickups-for-paws.
#SummerNightsUnderTheLights