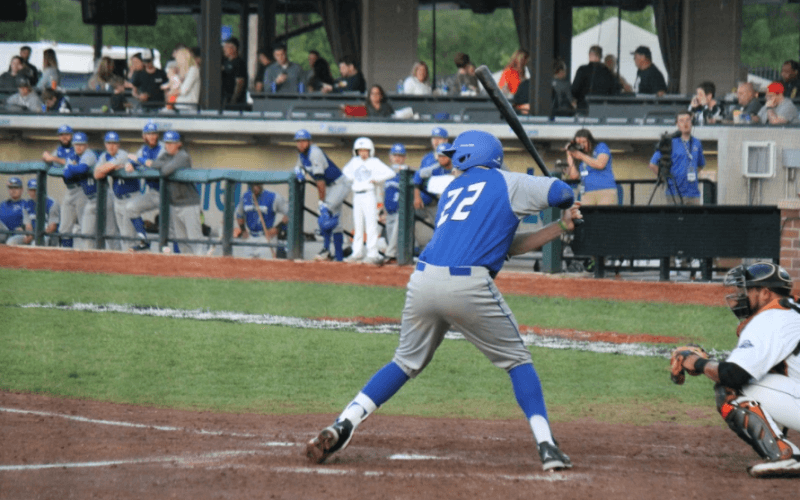 Mammoths Hold On to Defeat Unicorns 6-4
May 26th, 2017
By Steve Marowski
Westside Woolly Mammoths 6 vs. Utica Unicorns 4
Utica — It was back-and-forth action between the Westside Woolly Mammoths and the Utica Unicorns on Friday, May 26, but the Mammoths were able to defeat the Unicorns, 6-4.
Mammoths first baseman Tyler McVicar was 2-3 with a walk and three RBI's. His two-RBI double in the fourth inning tied the game at two, and he also had an RBI single in the eighth inning.
"I was looking for something out over the plate and a good pitch to hit," said McVicar. "My timing was off a little bit in the first few games of the season, but I worked on catching the ball out in front and got some good pitches to hit."
The Unicorns took a 2-0 lead in the third inning on a solo home run from Nicco Lollio and an RBI single from Brandon Rawe. Unicorns first baseman Clay Ardeeser gave the Unicorns a 3-2 lead in the bottom of the seventh with a solo home run to left field.
However, in the top of the eighth, Mammoths catcher Kyle Hamner would tie the game with an RBI single and Riley Palmer came around to score on a wild pitch to give the Mammoths a 4-3 lead.
Hamner eventually scored on a throwing error to make it a 5-3 ballgame and McVicar's RBI single made it 6-3.
"The bottom of the lineup really got it going tonight," Mammoths Manager Shane McCatty said. "Jeremy Holcombe did another outstanding job, and Travis McQueen shut them down with the bases loaded at the end."
Holcombe threw seven innings, only allowed three runs and had two strikeouts. McQueen came in with the bases loaded in the bottom of the ninth, but he retired the first three batters he faced to secure the victory.
The Unicorns will be back in action on Saturday, May 27, when they take on the Eastside Diamond Hoppers.
Upcoming Games
Saturday, May 27, Eastside Diamond Hoppers vs. Utica Unicorns, 7:05 p.m. (WCSX Classic Rock Saturday/Nurse Appreciation Night/Memorial Day Weekend All-You-Can-Eat Buffet)
Sunday, May 28, Westside Woolly Mammoths vs. Birmingham-Bloomfield Beavers, 1:35 p.m. (Helicopter Candy Drop for Kids/Memorial Day Weekend All-You-Can-Eat Buffet)
Monday, May 29, Utica Unicorns vs. Eastside Diamond Hoppers, 1:35 p.m. (USPBL Star Spangled Hat Giveaway/National Coney Island Memorial Day Ticket Offer)
Standings
1. Eastside Diamond Hoppers 6-2
2. Utica Unicorns 4-4
3. Birmingham-Bloomfield Beavers 3-5
4. Westside Woolly Mammoths 3-5