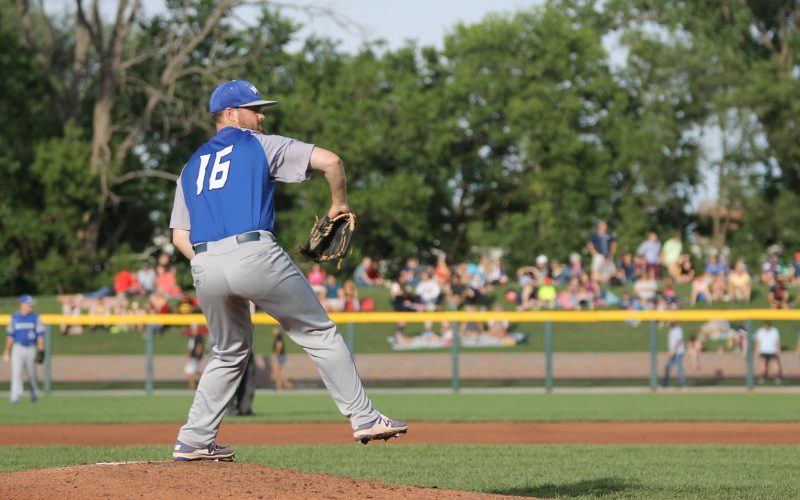 Mammoths Defeat Beavers 7-2
June 23rd, 2017
By Steve Marowski
Westside Woolly Mammoths 7 vs. Birmingham-Bloomfield Beavers 2
Utica — The Westside Woolly Mammoths exploded for four runs in the top of the eighth inning to earn a 7-2 victory over the Birmingham-Bloomfield Beavers.
"We had really good situational hitting tonight," Mammoths Manager Shane McCatty said. "It was nice to see the guys break out when it was important."
In the top of the first inning, the Mammoths struck first with an RBI double from Jeff Smith.
The Mammoths extended their 1-0 lead in the top of the fifth inning on an RBI double by Ian Yetsko. Alex Abbott followed with an RBI single to make it a 3-0 ballgame.
The Beavers got two back in the bottom of the seventh inning when Mike Mioduszewski scored on a wild pitch and Robert Lucido hit an RBI single.
In the top of the eighth inning, the Mammoths scored four runs with a solo home run from Riley Palmer, a sacrifice fly from Joba Ferrell and a two-RBI single by Hagen Wilkey.
Sean Kennedy threw 6 1/3 quality innings in the Mammoths victory. He gave up just two runs, walked one, struck out seven and picked up the win.
"Sean Kennedy pitched really well," McCatty added. "Everyone did their job when they needed to, and it was a good all-around win."
Upcoming Games
Saturday, June 24, Westside Woolly Mammoths vs. Birmingham-Bloomfield Beavers, 7:05 p.m. (WCSX Classic Rock Saturday and Riverwalk Fireworks at Dark)
Sunday, June 25, Eastside Diamond Hoppers vs. Utica Unicorns, 1:35 p.m. (Power Rangers)
Thursday, June 29, Eastside Diamond Hoppers vs. Birmingham-Bloomfield Beavers, 7:05 p.m. (Zombie Night/Thirsty Thursday)
Friday, June 30, Utica Unicorns vs. Eastside Diamond Hoppers, 7:05 p.m. (Fireworks Friday presented by Metro PCS/Social Media Night)
Saturday, July 1, Utica Unicorns vs. Westside Woolly Mammoths, 7:05 p.m. (WCSX Classic Rock Saturday)
Sunday, July 2, Birmingham-Bloomfield Beavers vs. Westside Woolly Mammoths, 1:35 p.m. (Minions and Kids Candy Hunt)
Monday, July 3, Birmingham-Bloomfield Beavers vs. Utica Unicorns, 1:35 p.m. (Independence Celebration/Star Spangled T-Shirt Giveaway/Hospitality Worker Appreciation)
Standings
1. Eastside Diamond Hoppers 11-7
2. Utica Unicorns 11-8
3. Westside Woolly Mammoths 9-10
4. Birmingham-Bloomfield Beavers 6-12