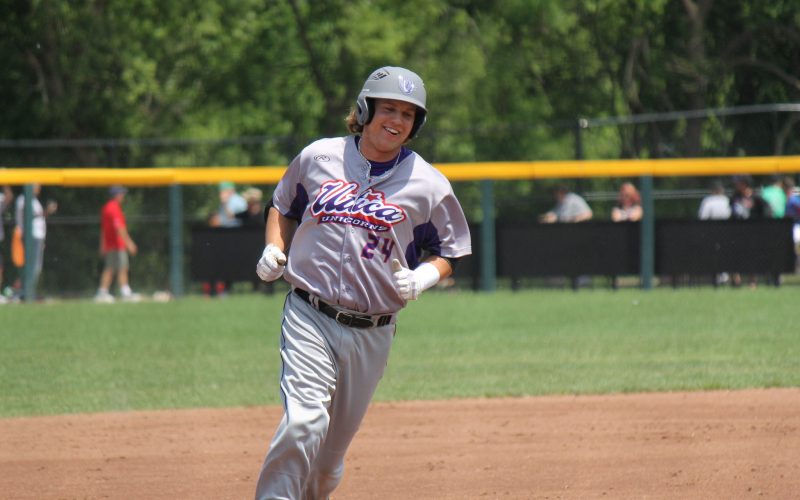 Lollio Hits Walk-Off Homer, Unicorns Win 10-9
June 11th, 2017
By Steve Marowski
Utica Unicorns 10 vs. Eastside Diamond Hoppers 9
Utica — It was a back-and-forth game between the Utica Unicorns and Eastside Diamond Hoppers, but the Unicorns came out with a 10-9 victory on a pinch-hit walk-off home run by Nicco Lollio.
"[Deshazier] was painting me outside, and luckily he left one over the zone and I ran into one," Lollio said.
The Unicorns got out to an early 1-0 lead, but Brandon Larkin-Guilfoyle hit a two-run home run to give the Unicorns a 2-1 lead in the bottom of the second inning.
After the Diamond Hoppers tied the game at two, Mike Rampone hit a solo home run to give the Unicorns a 3-2 lead after three innings. However, the Diamond Hoppers would take a 6-3 lead in the top of the fourth on a two-RBI double by John Menken and a two-RBI single by Nate Ferrell.
The Unicorns came back to take an 8-6 lead on a two-RBI double by Clay Ardeeser and a sacrifice fly by Larkin-Guilfoyle. They would take the 8-6 lead into the ninth inning, but the Diamond Hoppers scored three to make it 9-8 going to the bottom of the ninth. Lollio's two-run shot sealed the victory for the Unicorns.
"Our team battled back," Unicorns Manager Jim Essian said. "We've got a good offensive team."
Rampone was 2-4 with an RBI and two runs scored, and Larkin-Guilfoyle was 1-3 with a run scored and three RBI's.
Diamond Hoppers second baseman Kam Stewart was 4-6 with an RBI and two runs scored, and John Menken was 3-4 with two walks, four RBI's and two runs scored.
Upcoming Games
Thursday, June 15, Eastside Diamond Hoppers vs. Birmingham-Bloomfield Beavers, 7:05 p.m. (Polish Heritage Night/Thirsty Thursday)
Friday, June 16, Westside Woolly Mammoths vs. Utica Unicorns, 7:05 p.m. (Fireworks Friday/Meet the Unicorns)
Saturday, June 17, Eastside Diamond Hoppers vs. Utica Unicorns, 7:05 p.m. (WCSX Classic Rock Saturday/Grand Valley State University Night)
Sunday, June 18, Birmingham-Bloomfield Beavers vs. Westside Woolly Mammoths, 1:35 p.m. (Father's Day Cookout)
Standings
1. Utica Unicorns 9-6
2. Eastside Diamond Hoppers 8-6
3. Westside Woolly Mammoths 6-8
4. Birmingham-Bloomfield Beavers 5-8