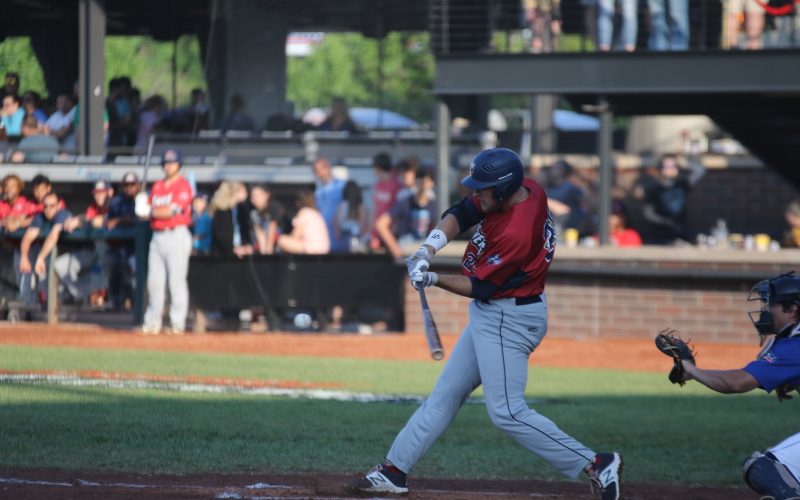 Hranec Shines In Hometown State
August 8th, 2018
By Brandon Rothenberg
USPBL Intern
Sometimes, everybody just wants to be the hero. Whether it's getting the game-winning hit, making a diving catch to end the game, or just to be the most feared hitter in the league. It's an added bonus when you get to be a hometown star in the United Shore Professional Baseball League. This title belongs to none other than Jack Hranec: first baseman for the Birmingham Bloomfield Beavers.
The 6-foot-4 inch Hranec is from Ortonville, Mich., a cool 45 minutes away from Jimmy John's Field in historic downtown Utica.
Hranec made the adjustment from the Frontier league into the USPBL at the start of the 2018 season. He struggled in his one season with the Gateway Grizzlies with 35 hits in 51 games. Hranec had practically no extra-base power with only three doubles, four home runs, and 11 RBIs. This is a huge difference compared to his final season at Murray State where he had nine doubles, two triples, and 16 homers in just 46 games started.
"Each league has its differences, but the Frontier was really good preparation for this league," said Hranec when asked about the transition between the Frontier league and the USPBL.
"I like the developmental aspect of the league, and especially the fact that I'm pretty close to home."
Hranec is one of the top hitters in the USPBL, ranking in the top six in batting average, hits, doubles, slugging percentage, runs batted in and home runs. He has cut his strikeouts way down and has reached base safely in all but three games this year.
"I try to keep it simple and stick to my normal approach," said Hranec. "Being comfortable, not trying to do too much, and keeping the pressure off myself and it's been working so far."
Hranec started the season with an impressive 12-game hitting streak, including four multi-hit games for the Beavers.
"It was fun, but after awhile to start to think about it and it really gets into your head," said Hranec on his hitting streak. "It was really cool though, I'd love to start another one."
While there's a big difference in his numbers thus far in the USPBL and last year in the Frontier league, the level of talent in the pitching he's seen in both leagues is practically the same.
"In the Frontier League, the same guy can throw for strikes consistently, but I would say you see more consistent velocity in the USPBL," Hranec said. "It's pretty comparable between both leagues."
Hranec really has a blast playing in the USPBL and feels right at home.
"In this league, they care about how you're doing as a player opposed to just strictly winning and results," said Hranec. "I like how it's all about the development as a player."
#YourSummerDestination