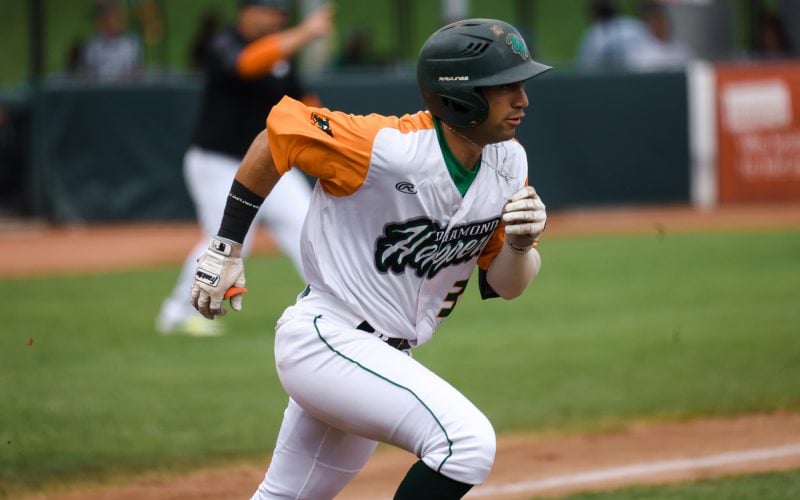 Hoppers Win Game Two In Sudden Death, 5-4
May 20th, 2023
UTICA, Mich. – Alex Pup finished game two of today's doubleheader going 1-for-3 with two RBIs, while right-handed pitcher Luke Drummond (1-0) struck out six batters as the Eastside Diamond Hoppers (2-0) used their strong bats and arms to down the Westside Woolly Mammoths (0-2), 5-4, on Saturday night at Jimmy John's Field.
The Mammoths used a two-run fifth inning to take the lead, before the Hoppers came back in the bottom of the fifth, with two runs of their own, to tie the game up.
Chandler Dunn brought in the game winning RBI in the sudden death extra inning, scoring Chris Iazzetta. Joe Burke had one hit and one RBI, and Bryant Shellenbarger added one hit of his own.
The Mammoths' lead off hitter, Burke Dixon, went 2-for-4 in game two, with two runs scored. Priamo Lozada had two RBIs.
The sudden death format is as follows: a coin toss will take place at home plate between the managers of both teams. The home team will call their selection as the umpire tosses the coin. The winner of the coin toss will select whether they will take the field defensively or bat in the inning. The team at bat will remain the same batting order as the previous inning with the hitter making the last out placed at first base. If the team scores a run, they win. If they are held scoreless, the victory goes to the team on defense.
#ThePlaceToBeIn2023