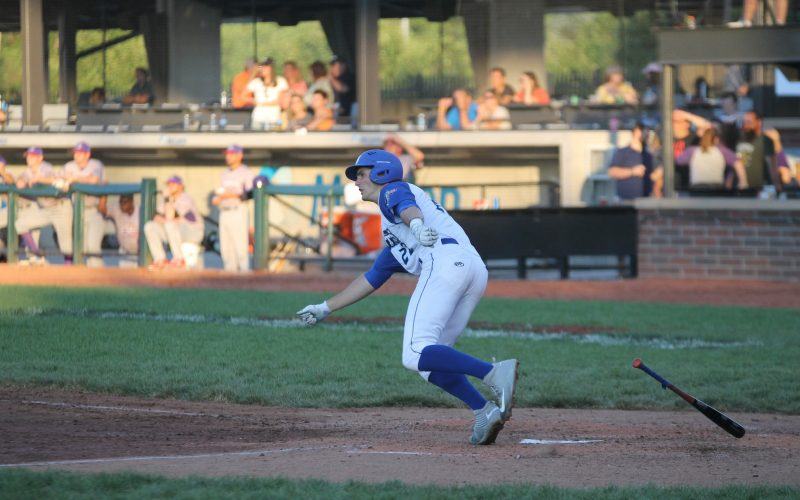 Mammoths Stomp Unicorns 8-1
By Steve Marowski
Westside Woolly Mammoths 8 vs. Utica Unicorns 1
Utica — In their first meeting since June 16, the Westside Woolly Mammoths defeated the Utica Unicorns, 8-1.
"We've been putting it together the last five games and we grinded it out today," Mammoths Manager Shane McCatty said.
In his first at-bat in the USPBL, Unicorns right fielder Brandon Shaffer hit a solo shot to right field to give the Unicorns an early 1-0 lead.
The bats remained quiet until the bottom of the fifth inning when the Mammoths scored six runs. Kent Blackstone hit a two-RBI single to give the Mammoths a 2-1 lead, and Alex Abbott followed with an RBI single of his own.
Later in the inning, Ethan Wiskur hit a three-run home run to left field to make it a 6-1 ballgame. The home run was Wiskur's first hit in the USPBL.
"I've been struggling a little bit, but it just felt good to get a good swing on one," Wiskur said.
The Mammoths added two more runs in the bottom of the eighth on RBI singles by Blackstone and Joba Ferrell.
With three RBI's in the Mammoths victory, Blackstone now leads the league with 21 RBI's.
Upcoming Games
Sunday, July 2, Birmingham-Bloomfield Beavers vs. Westside Woolly Mammoths, 1:35 p.m. (Minions and Kids Candy Hunt)
Monday, July 3, Birmingham-Bloomfield Beavers vs. Utica Unicorns, 1:35 p.m. (Independence Celebration/Star Spangled T-Shirt Giveaway/Hospitality Worker Appreciation)
Standings
1. Eastside Diamond Hoppers 12-10
2.Westside Woolly Mammoths 12-10
3. Utica Unicorns 12-11
4. Birmingham-Bloomfield Beavers 8-13