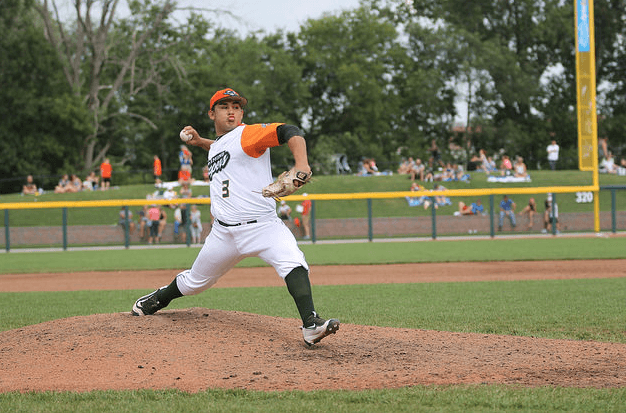 Extra Inning Thriller Determines Seeding For Playoffs
September 5th, 2017
By: Tyler Curran
September 3rd, 2017
 Utica, MI – While the Birmingham-Bloomfield Beavers found out Saturday, September 3rd about their first place finish on the season, the Eastside Diamond Hoppers and Utica Unicorns battled for the second place finish on Sunday. Both teams fought for the entirety of the game and extra innings were required to determine who would be sitting as a two seed in the playoffs next weekend. It ended 9-8 in the Diamond Hoppers' favor.
"When I'm on the mound I go out there like every time is my last time, and control things I can control," Hoppers reliever Don Wanner said. Wanner did just that as he watched his team secure the two seed on a game ending double play. Wanner earned the save in the tenth inning to put the seal on the game.
The bullpens were critical for the Hoppers and Unicorns as both starters were knocked out of the game early. Tyler Palm had taken over in the bottom of the second and did exactly what he needed to do; eat up innings and keep the scoring down.  Palm went into the eighth inning before giving way to the late inning relievers. Unicorns' Brandon White and Chris Dula steered their team in the right direction in the middle innings, as they also had to reach into their bullpen in the second inning.
The Hoppers had their offense hitting early, putting a five spot in the run column in the top of the first inning. The Unicorns responded quickly putting up two runs in the first inning and two more in the second making it 5-4. The Hoppers protected an 8-4 lead until the late charge of the Utica Unicorns.
Unicorns had a three run eighth inning making it just a one run game going into the ninth giving way to Bobby Webb's late inning heroics. With one out in the bottom of the ninth, Webb lined a ball to dead center off the batter's eye for a solo shot to tie the game at 8-8. This sent the game into extra innings and with the international tiebreaker rule in place, the inning began with a runner on second.
The Hoppers were able to score a run after some heads up base running from catcher Cyle Figueroa. In the Unicorns half of the inning, after a dropped third strike allowed Dillon Sprague to reach third with one out, a line drive to third baseman Trevor Achenbach doubled off the Unicorns and ended the game in dramatic fashion.
With the 9-8 victory, the Diamond Hoppers finish the season in second (Behind Beavers), Utica Unicorns in third and Woolly Mammoths in fourth. The Hoppers are now (27-24) and the Unicorns are (25-26).