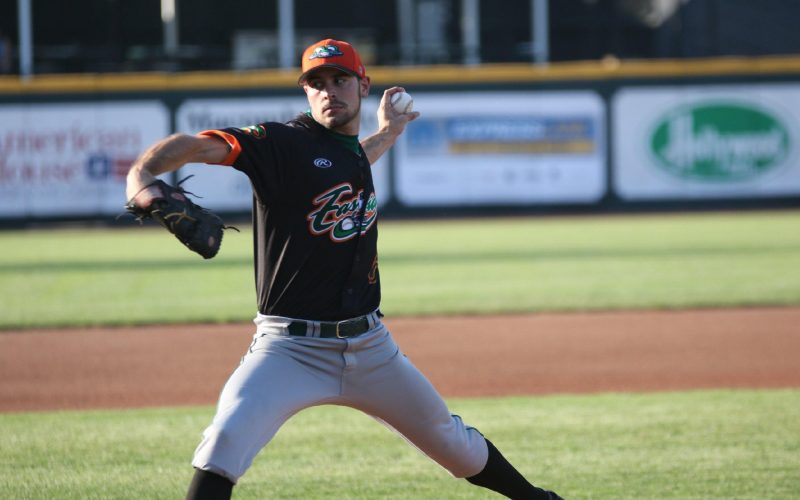 Diamond Hoppers Blank Unicorns, 6-0
May 25th, 2018
UTICA, Mich. – Left-handed pitcher Devin Alexander threw seven scoreless innings, allowing one hit and fanned a season-best 12, while centerfielder Kody Ruedisili went 3-for-4 and drove in a run to lead the Eastside Diamond Hoppers (4-3) to their fourth straight win, defeating the Utica Unicorns (3-3), 6-0, on Friday night at Jimmy John's Field.
RHP Keaton Aldridge tossed a scoreless eighth inning, and RHP Alex Vargas recorded a scoreless ninth inning. First baseman Josh McAdams and second baseman Sebastian Diaz each homered for the Hoppers.
RHP Gio Abreu took the loss on the mound, striking out a season-high 10 batters in five innings pitched, allowing six hits and four earned runs.
The Hoppers scored six runs, on nine hits, and committed one error, while the Unicorns had two hits in the ballgame.
UPCOMING GAMES:
Saturday – Utica Unicorns vs. Westside Woolly Mammoths, 7:05 p.m., gates open at 6 p.m.
PROMOTIONS: WCSX Classic Rock Saturday with Square Pegz, 80's Night at the ballpark, Stranger Things and Postgame Dance Party for one hour on the field after the game … Afterglow party in the AAA Clubhouse immediately following Dance Party … Anyone dressed up in 80's gear will be entered in for a chance to win a prize
Sunday (DH) – Westside Woolly Mammoths vs. Birmingham Bloomfield Beavers, 1:05 p.m., gates open at Noon — Second game starts 30 mins after the first — both games will be 7 innings
PROMOTIONS: Sunday Fun Day with Beauty and Beast, presented by Fairytale Entertainment … Beauty and Beat will be at the front gates at Noon and will only be at the ballpark until 2 p.m. … Anyone that purchases a ticket to the first game will be able to stay for game two
Monday, Memorial Day – Eastside Diamond Hoppers vs. Utica Unicorns, 1:05 p.m., gates open at Noon
PROMOTIONS: First 750 fans receive USPBL Star Spangled Sunglasses … All Veterans receive a FREE grandstand ticket, and family members get $2 off any grandstand ticket … $1 Hot Dogs, $1 Chips, $1 Soft Drinks
#YourSummerDestination