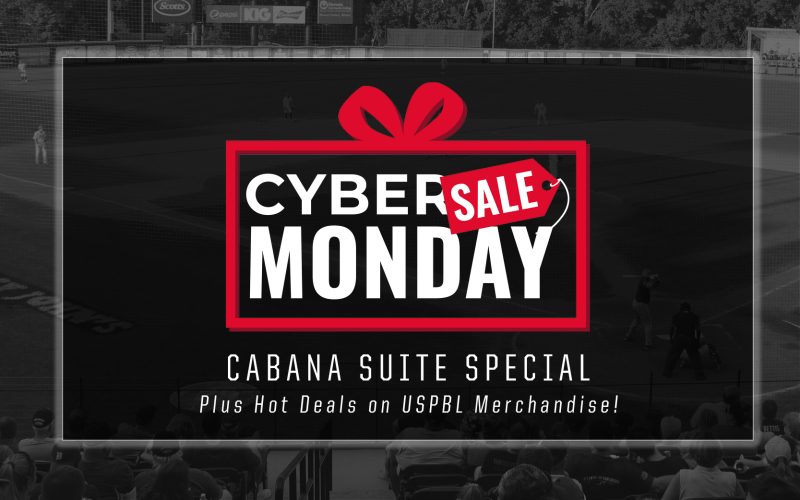 Cyber Monday Deals
November 22nd, 2022
This deal is too SUITE to pass up. Our Cyber Monday Suite Special is available for purchase Monday, November 28th through Friday, December 2nd. 
This $500 Cabana Suite Special includes:
16 Cabana Suite Tickets
Three (3) VIP Parking Passes
16 Hot Dogs
16 Bags of Chips
10 Pepsi Soft Drinks
10 Waters
Popcorn
Dates available: May 20th, 21st, 27th, July 1st, July 2nd, September 1st, September 2nd
Purchase Here
Call for more information to (248) 601-2400 ext. 3
Email for more information to suites@uspbl.com
Merchandise Deals are still available! 
YOUTH HOLIDAY PACKAGE – $55
One (1) Team Hooded Sweatshirt (youth sizes xs-xl)
One (1) Youth Cap (adjustable)
One (1) Mascot Plush Toy
Purchase HERE
STADIUM HOLIDAY PACKAGE – $70
One (1) JJ The Field General Bat Dog Plush Toy
One (1) Jimmy John's Field Stadium Blanket
Two (2) Grandstand Ticket Vouchers for the 2023 Baseball Season
Purchase HERE
GRANDSTAND HOLIDAY PACKAGE – $75
One (1) Team Hooded Sweatshirt (adult sizes s-3xl)
One (1) Team Trucker Hat (adjustable snapback)
Two (2) Grandstand Ticket Vouchers for the 2023 Baseball Season
Purchase HERE