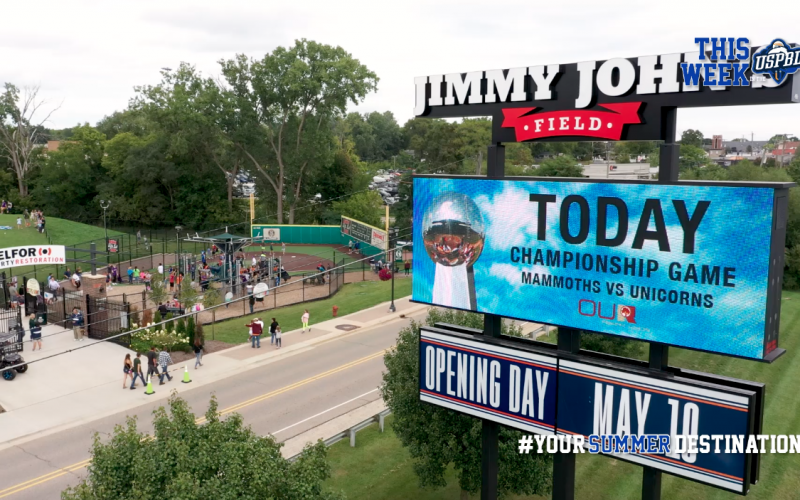 Championship Weekend Review
September 10th, 2019
ROCHESTER, Mich. – A record number of fans attended Championship Weekend, presented by OUR Credit Union, at Jimmy John's Field and the Utica Unicorns came-from-behind to capture their second United Shore Professional Baseball League title to highlight This Week in the USPBL. Unicorns' catcher Jimmy Latona was named Championship Game MVP.
The weekend began with another sell out on Friday and the best fireworks show of the season. The Birmingham Bloomfield Beavers advanced to the semifinals after a 7-3 victory over the Eastside Diamond Hoppers, led by right-handed pitcher Garrett Christman who earned his league-best seventh win of the season.
The Unicorns took on the two-time defending champion Beavers on Saturday night for the right to play for the championship on Sunday. RHP Ty Hensley threw 7.0 scoreless innings as Utica took a 5-0 lead into the eighth inning. The Beavers responded with a three-run home run in the eighth, and put runners on first and second in the ninth, but Hensley pitched out of the jam to throw his first-ever complete game since becoming a professional in 2012.
After a superb semifinals game, the Championship Game looked like it was going to be a run away for the top-seeded Westside Woolly Mammoths. Sonny Cortez homered in the first and the Mammoths took a 5-1 lead into the seventh inning before the Unicorns scored three and added the go ahead run in the eighth to win the title. Nolan Clenney broke the single-season record with his eighth save of the year, retiring all six batters he faced. The game featured a record attendance of 4,926.
#MakeTimeForFun
#YourSummerDestination