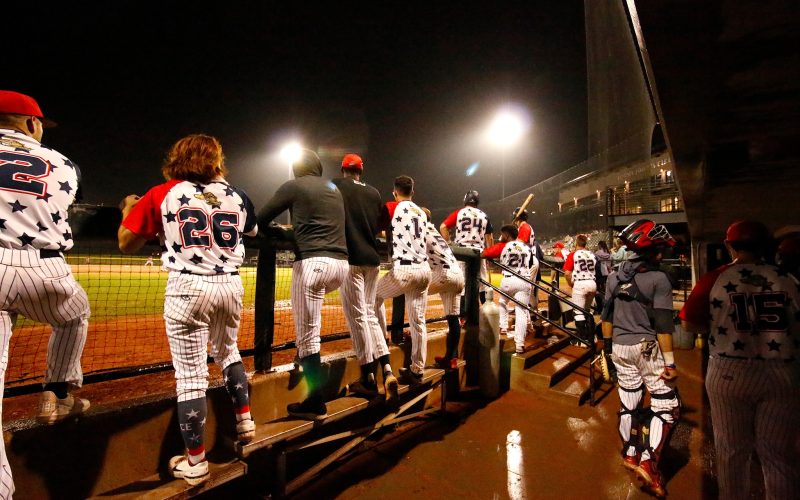 Beavers Win In Sudden Death, 2-1
July 6th, 2023
UTICA, Mich. – Fireworks lit up the sky at Jimmy John's Field on Salute to America Night, as the Brimingham Bloomfield Beavers (8-11) beat the Westside Woolly Mammoths (10-10), 2-1, in sudden death Sunday night.
Chris Davis finished the game 3-for-3, with a double and one run scored. Ray Hilbrich went 2-for-3, also hitting a double.
Right-handed pitcher John Beuckelaere pitched the final 2.0 innings of the game, striking out four of the six batters he faced.
For the Mammoths, Lamar Briggs had one hit, one walk and one RBI. Burke Dixon scored the lone run for the Mammoths
In sudden death, the Beavers won the coin toss and selected to play offense. The Mammoths there out JD Stubbs at home, but ended the game on a balk by Jonathan Habb, scoring Malek Bolin.
The sudden death format is as follows: a coin toss will take place at home plate between the managers of both teams. The home team will call their selection as the umpire tosses the coin. The winner of the coin toss will select whether they will take the field defensively or bat in the inning. The team at bat will remain the same batting order as the previous inning with the hitter making the last out placed at first base. If the team scores a run, they win. If they are held scoreless, the victory goes to the team on defense.
#ThePlaceToBeIn2023