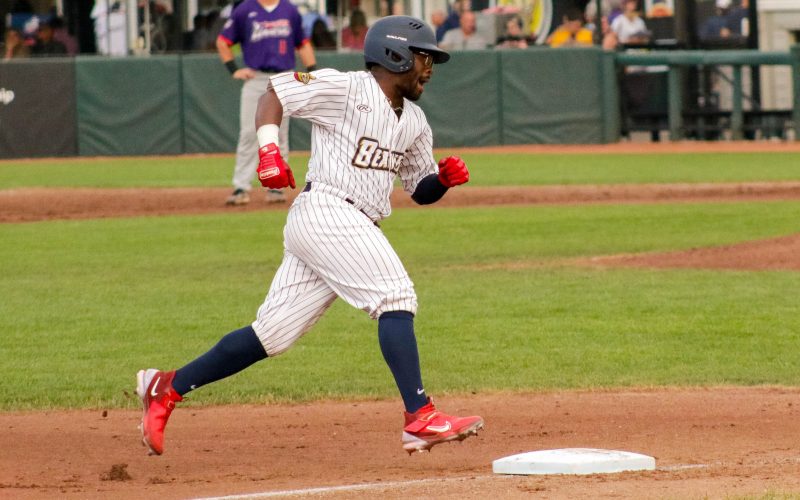 Beavers Set Records in Win, 19-3, Over Unicorns
August 5th, 2023
UTICA, Mich. – Christian Ortega went 4-for-5 with 5 RBI and four runs scored to lead the Birmingham Bloomfield Beavers (15-18) to a 19-3 win over the Utica Unicorns (14-16) on Saturday night in front of a lively crowd at Jimmy John's Field.
Every Beaver in the lineup was on base at least once in tonight's game. Chris Davis, Rudy Ramirez and Malek Bolin had three hits. Ray Hilbrich and Marcus Judd had two hits. Judd hit a grand slam in the bottom of the first inning, setting the tone for the Beavers.
Starting pitcher, a returner, Greg Loukinen pitched 5.0 innings of work, scattering five hits, giving up no runs, allowing one walk and striking out six.
With tonight's 19 runs, the Beavers set a team record of second most runs scored, breaking the previous record of 15 runs scored on July 13, 2017. There were three Beaver bombs hit, tying for second most for the team. In addition, the 19 hits places this game in second in the Beaver record book, breaking the previous record of 18 on August, 13, 2017.
For the Unicorns runs came late from Josh Baker, Angel Diaz and Donovyn Curiel. The Unicorns did have 12 hits, but left 10 men on base.
#ThePlaceToBeIn2023