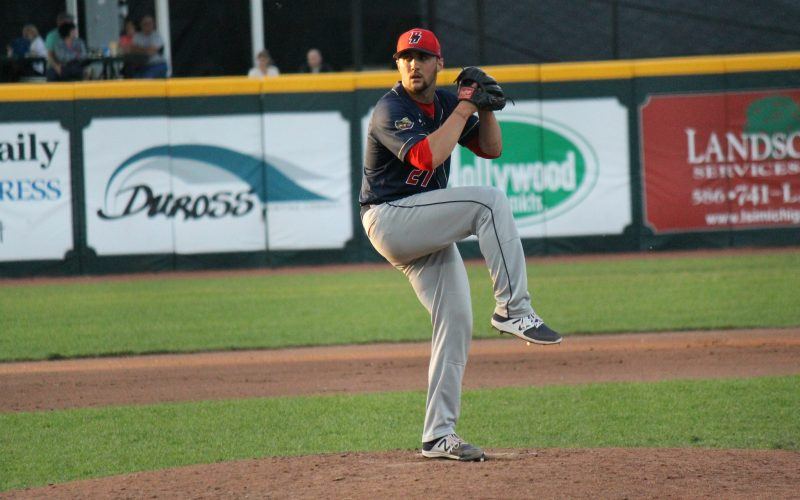 Beavers Roll Past Mammoths With 10-1 Victory
June 18th, 2017
By Steve Marowski
Birmingham-Bloomfield Beavers 10 vs. Westside Woolly Mammoths 1
Utica — Nic Wilson was 2-3 with two home runs, two walks and four RBI's, and starting pitcher Kevin Matthews threw six quality innings in the Birmingham-Bloomfield Beavers 10-1 win over the Westside Woolly Mammoths.
"Our bullpen had a breather today because of the big lead, but this [win] came at the perfect time," Beavers Manager Chris Newell said.
Wilson's solo home run in the top of the first gave the Beavers a 1-0 lead. The Mammoths would tie the game at one in the bottom of the second when Riley Palmer reached on a base hit. Palmer stole second base and third base, then came around to score later in the inning.
Beavers catcher Conrad Kovalcik hit an RBI single in the top of the fifth inning to take a 2-1 lead. In the top of the sixth inning, Wilson's three-run home run made it a 5-1 ballgame.
The Beavers would score twice in the seventh, twice in the eighth and once in the ninth to complete their day at the plate.
On the mound, Matthews threw six innings and allowed just one hit. He gave up just one unearned run, walked two and struck out nine.
Matthews now leads the league in strikeouts (36) and ERA (0.45).
"I've got a clubhouse full of leaders," Newell added. "They're very professional, they love one another and the support for one another has been there."
Upcoming Games
Thursday, June 22, Utica Unicorns vs. Eastside Diamond Hoppers, 7:05 p.m. (Vintage Baseball Night/Utica Recognition/Thirsty Thursday)
Friday, June 23, Westside Woolly Mammoths vs. Birmingham-Bloomfield Beavers, 7:05 p.m. (Fireworks Friday presented by XFINITY/Blackjack the Border Collie/Oakland University Night)
Saturday, June 24, Westside Woolly Mammoths vs. Birmingham-Bloomfield Beavers, 7:05 p.m. (WCSX Classic Rock Saturday and Riverwalk Fireworks at Dark)
Sunday, June 25, Eastside Diamond Hoppers vs. Utica Unicorns, 1:35 p.m. (Power Rangers)
Standings
1. Utica Unicorns 11-6
2. Eastside Diamond Hoppers 9-7
3. Westside Woolly Mammoths 7-10
4. Birmingham-Bloomfield Beavers 6-10