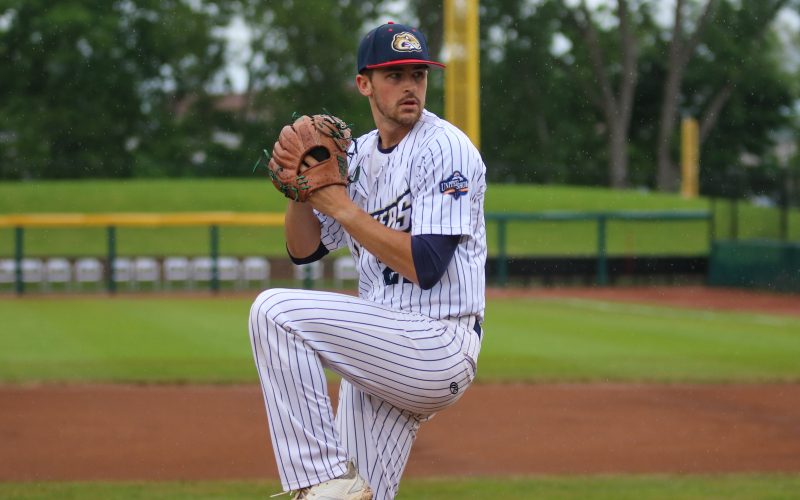 Beavers Rally Past Diamond Hoppers, 6-4
June 13th, 2019
UTICA, Mich. – Jack Hranec went 3-for-4 and drove in two runs, while right-handed pitcher Kenny Ogg earned a win in his United Shore Professional Baseball League debut, throwing 6.0 innings and striking out four to lead the Birmingham Bloomfield Beavers (7-7) over the Eastside Diamond Hoppers (7-8), 6-4, on Thursday night at Jimmy John's Field.
Reigning USPBL Player of the Week Ross Haffey finished the game 2-for-4, with one RBI and Justin Kelly went 2-for-3 with one run scored and a walk. RHP Matt Dallas earned the save in the ninth inning, striking out two.
The Diamond Hoppers jumped out to a 3-0 lead in the first inning after Freddy Jehle and Zackary Gray each drove in runs. Jehle finished the game 3-for-5 with a run scored and a double.
Ogg settled down on the mound and held the Hoppers off the scoreboard in four of the next five innings and the Beavers scored three runs in the bottom of the fourth inning to take a 6-4 lead.
The first-place Utica Unicorns will start a three-game set this weekend as they take on the Westside Woolly Mammoths on Friday night at 7:05 p.m. It's Nerf Night at the ballpark, presented by Fairytale Entertainment, and Fireworks Spectacular immediately following the game. Gates open at 6 p.m.
#YourSummerDestination #BuzzinBeavers