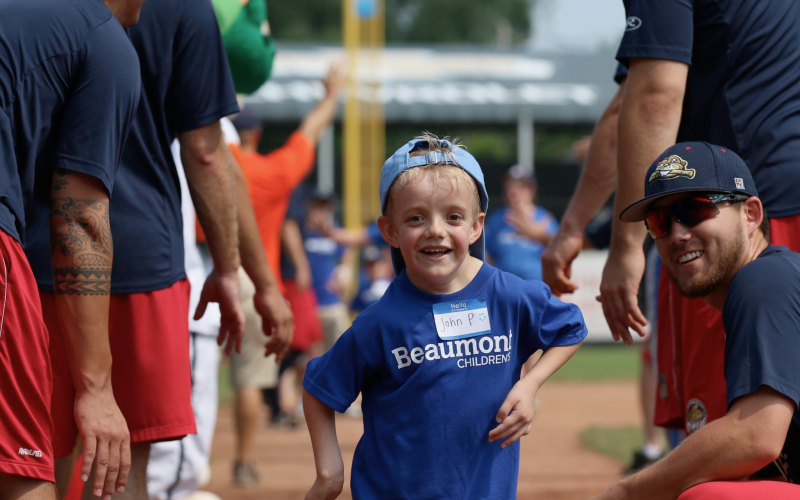 Beavers Offer John Powledge Lifetime Contract
July 6th, 2018
ROCHESTER, Mich. – Playing professional baseball is a dream a lot of boys have while playing in their backyard with their family and friends. Most studies will tell you that less than one percent of high school athletes make it professionally. Well for John Powledge, a seven-year old boy diagnosed with Ehlers-Danlos Syndrome (EDS), cleidocranial dysplasia and infantile scoliosis, that dream has come true.
On Saturday during the United Shore Professional Baseball League All-Star Game, John will be offered a lifetime contract for the Birmingham Bloomfield Beavers from USPBL Owner and CEO Andy Appleby, Beavers' Manager Chris Newell and right-handed pitcher Brian Heldman. Newell and Heldman met John on Saturday, June 30, as part of the Beaumont Pediatric Children's Rehab Day at Jimmy John's Field.
"John epitomizes what our team and league stands for," said Newell. "His toughness, perseverance and his ability to impact lives is what we should all strive to be like! He is a true inspiration to not only me personally, but everyone on my ball club. Having him become a Beaver for life is the single most important and best thing this organization can hang its hat on."
The Beavers are the defending champions after capturing the championship last year in the second season of the USPBL. Newell has watched a league-best eight of his players sign with Major League Baseball organizations.
John is heading into the first grade and attends Parkway Christian School in Sterling Heights. He has endured seven surgeries so far to treat his scoliosis and will continue to have back surgeries until he is done growing, ranging between the ages of 12-14 years old. He is treated at the University of Michigan's C.S. Mott Children's Hospital. John continues to get physical therapy and occupational therapy at Troy Beaumont Hospital.
"John loves sports, especially baseball," said Joy Powledge, John's mother. "This is a blessing for our family. I still can't stop smiling and telling everyone how great your organization is. I cannot thank the USPBL enough, especially Chris and Brian, for making my son's dreams come true!"
The Rawlings Home Run Derby and All-Star Game on Saturday will begin at 5:30 p.m. Gates will open at 5 p.m. and the ceremony of John receiving his lifetime contract will take place on the field during the All-Star Game.
#YourSummerDestination