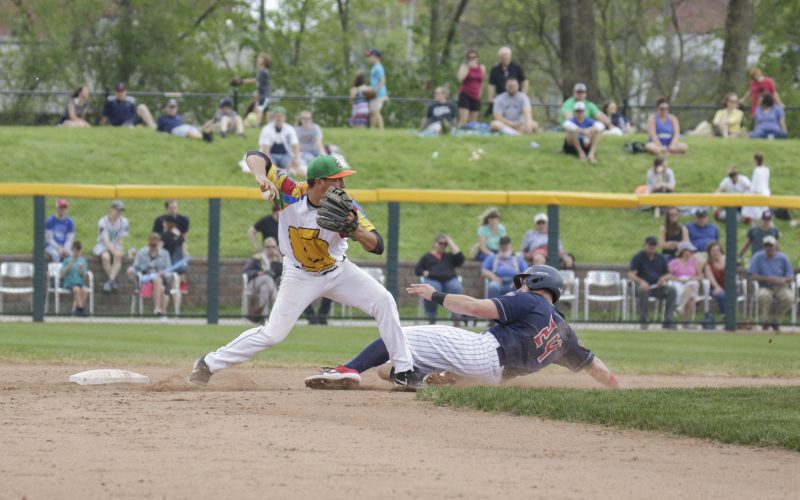 Beavers-Hoppers Game Suspended in 8th Inning
May 19th, 2019
UTICA, Mich. – The game between the Birmingham Bloomfield Beavers and Eastside Diamond Hoppers on Sunday, May 19 was suspended in the eighth inning with the score tied at 1-1 at Jimmy John's Field. The game will be continued at a later date.
TJ Ward doubled to left-center field with one out in the bottom of the eighth inning to give the Beavers a runner in scoring position. With a 3-1 count on Alec Olund, the game was halted as heavy rains came.
Starting pitchers Gerry Salisbury (Beavers) and Noah Gotsis (Hoppers) were dynamite on the mound, each throwing 6.0 strong innings. Salisbury allowed just two hits and fanned five, while Gotsis gave up five hits and struck out five.
The Diamond Hoppers wore specialty jerseys and fans can still bid on the Lego unicorms by clicking here. The auction will end on Friday, May 24th, and proceeds will go to Make-A-Wish® Michigan.
UPCOMING GAMES/PROMOTIONS: MEMORIAL DAY WEEKEND
GAME 7 – THURSDAY, MAY 23 – 7:05, GATES 6 PM
Woolly Mammoths vs. Beavers
Promotions: Thirsty Thursday: $2 Bud and Bud Light, $5 Craft Beer Specials, $15 All-You-Can-Eat Wings, College Fair Night (HS students FREE, visit with local universities) – Read More
GAME 8 – FRIDAY, MAY 24 – 7:05, GATES 6 PM
Beavers vs. Unicorns
Promotions: Fireworks Spectacular – Read More
GAME 9 – SATURDAY, MAY 25 – 7:05, GATES 6 PM
Unicorns vs. Diamond Hoppers
Promotions: WCSX Classic Rock Saturday featuring Planet of Fun band, $15 All-You-Can-Eat Nachos, Utica Residents FREE – Read More
GAME 10 – SUNDAY, MAY 26 – 1:05, GATES Noon
Diamond Hoppers vs. Woolly Mammoths
Promotions: Bark in the Park presented by Happy Tails Learning Center for Dogs and Canine Divine, Kids Crafts … Bring your dog out to the ballpark and enjoy some great baseball – Read More
GAME 11 – MONDAY, MAY 27 – 1:05, GATES Noon
Beavers vs. Woolly Mammoths
Promotions: USPBL Hat giveaway, $1 Hot Dog, $1 Chips, $1 12-oz soft drink, Active and Retired Military FREE, Family members $2 off box seats – Read More
#YourSummerDestination