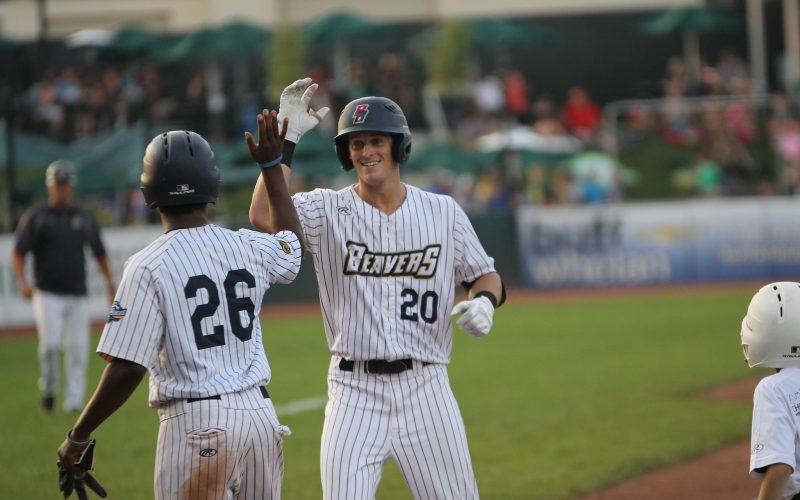 Beavers Defeat Diamond Hoppers 6-3
June 29th, 2017
By Steve Marowski
Birmingham-Bloomfield Beavers 6 vs. Eastside Diamond Hoppers 3
Utica — The Birmingham-Bloomfield Beavers had a three-run third inning, and in the fifth inning, Brandon Rawe hit a two-run home run to help defeat the Eastside Diamond Hoppers, 6-3.
Rawe was acquired by the Beavers after playing for the Utica Unicorns in the first part of the 2017 season.
"I was just looking for something to drive, and he threw a fastball up and I put a good swing on it," Rawe said about his home run at-bat.
The Diamond Hoppers took a 3-0 lead in the top of the second inning on an RBI single by John Kraft and a two-RBI single by Ricky Castro.
With the single, Castro now has a 16-game hitting streak, the longest in USPBL history.
The Beavers would come back in the bottom of the third inning with three runs of their own. Thomas Roulis hit his first home run of the season to make it 3-2, and an RBI single by DJ Martinez tied the game at three.
Rawe's two-run homer in the bottom of the fifth inning gave the Beavers a 5-3 lead, and an RBI single by Dan Kennon made it 6-3.
"Guys are starting to trust their abilities," Beavers Manager Chris Newell said. "Our guys are playing clean baseball and they're playing with a lot of confidence."
Upcoming Games
Friday, June 30, Utica Unicorns vs. Eastside Diamond Hoppers, 7:05 p.m. (Fireworks Friday presented by Metro PCS/Social Media Night)
Saturday, July 1, Utica Unicorns vs. Westside Woolly Mammoths, 7:05 p.m. (WCSX Classic Rock Saturday)
Sunday, July 2, Birmingham-Bloomfield Beavers vs. Westside Woolly Mammoths, 1:35 p.m. (Minions and Kids Candy Hunt)
Monday, July 3, Birmingham-Bloomfield Beavers vs. Utica Unicorns, 1:35 p.m. (Independence Celebration/Star Spangled T-Shirt Giveaway/Hospitality Worker Appreciation)
Standings
1. Eastside Diamond Hoppers 12-9
2. Utica Unicorns 11-10
3. Westside Woolly Mammoths 11-10
4. Birmingham-Bloomfield Beavers 8-13