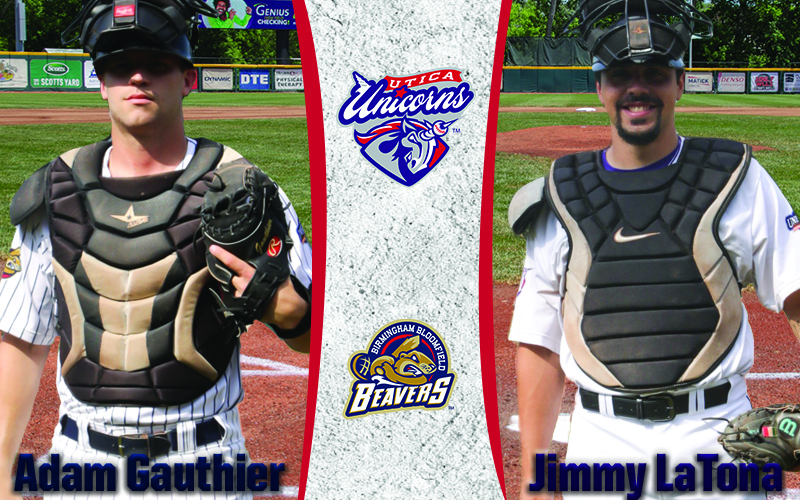 Backbones of the USPBL
July 5th, 2019
All-Star catchers lead the way for their respective teams
By Taylor Isenberg
USPBL Intern
From the beginning of the United Shore Professional Baseball League, the USPBL has focused its energy on being a developmental professional baseball league for players hoping to continue their baseball careers and making it to the major leagues. Thirty players have been signed with MLB organizations during the league's three-and-a-half seasons with Josh Hejka, a right-handed reliever from Dearborn, Mich., recently signing with the New York Mets organization.
Although this is the USPBL's end goal for its players, some players enter the league and face a different type of challenge—to work their way in to the starting lineup.
For catchers Jimmy Latona and Adam Gauthier, the process of becoming two of the league's most dependable players has been an up-hill battle. Latona, who suits up for the Utica Unicorns, leads the league in home runs, and Gauthier, who plays for the Birmingham Bloomfield Beavers, follows in second place.
With these types of leading statistics, both players have become key players for their teams as well as top prospects for major league organizations.
"As we head into our all-star break, Adam Gauthier and Jimmy Latona have surpassed our expectations offensively and have emerged as two of the best catching prospects we have seen in the USPBL," said Director of Baseball Operations Justin Orenduff. "Their transition from back-up catchers to legitimate stars in our league hasn't been easy, but their patience and constant determination to get better has propelled them into higher levels of success in 2019. Perhaps more impressive than their on-field play is the respect they garner from their teammates and coaches due to their character and professionalism."
When Gauthier first joined the league in 2018, he was a backup and split time with All-Star Catcher Hunter Wood, and he credits Wood with helping him become a better player. "As far as catching and working at the plate, he taught me quite a few things. I owe him a lot," Gauthier said.
Last season, Gauthier, who played college ball at Dartmouth, took home the championship with the Beavers, which he says was his first time being on a championship team.
"It's something you never take for granted. Championships don't come along that often," Gauthier said. "That feeling of dog-piling last year; that'll stay with me forever."
Even though Gauthier was a backup for the Beavers in 2018, Chris Newell, Manager of the Beavers, said that by the end of the season, he was one of the team's leaders.
For New York native, Latona, the 2018 season was an adjustment from playing for Mercyhurst College to playing professionally.
"Last year, I didn't play well at the plate. I did O.K. catching, but not at the plate. I said 'screw it.' I'm going to go out there and try to have fun, enjoy the game and stop putting so much pressure on myself," Latona said.
In the beginning of the 2019 season, that mental block and mindset held Latona back and he struggled again during his at-bat appearances early on.
"Hitting is a constant adjustment. There's stuff that will work one day then won't work the next day. I made a few adjustments in my stance, and I started to feel more comfortable in the box again. Having more confidence has given me the chip on my shoulder that I've kind of always played with," he said.
Those few adjustments and regained confidence has paid off for Latona. He's helped lead the Utica Unicorns to a first-place standing in the league at the midpoint of the season.
Now both players will be starting for their respective teams in the All-Star Game on Saturday, July 6. Gauthier will start behind the dish for the West All-Stars, while Latona will be the starting catcher for the East All-Stars, and will also participate in the Rawlings Home Run Derby at 5:30 p.m.
Both players have trusted the process of the league, finding success in earning the everyday role of being the catcher of their individual teams. From being out of the lineup to becoming top prospects and key players to watch the rest of the season, these catchers prove that with hard work and the right mindset, success in the USPBL is attainable.
"Being a professional baseball player, we put enough stress on ourselves," said Gauthier. "Knowing that the league is going to give you some time to develop, helps you relax as a player. The development part of this has been huge, being able to work with (Chris) Newell, Paul (Niggebrugge) and (Justin) Orenduff has meant the world to me. That's the reason my game has improved so much from last year until now."
#YourSummerDestination