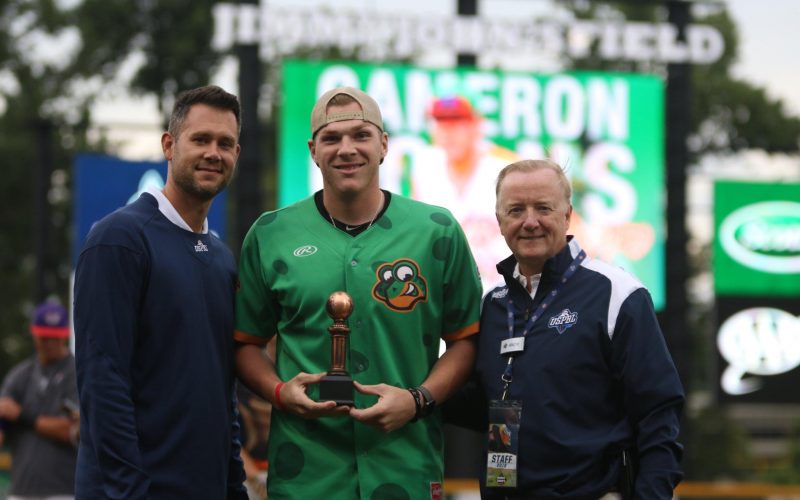 Appleby To Receive Ilitch School's 2018 Executive of the Year Award
September 14th, 2018
ROCHESTER, Mich. – Founder, CEO and Commissioner of the United Shore Professional Baseball League Andy Appleby will receive the prestigious Ilitch School's 2018 Executive of the Year Award from Wayne State University. The presentation of the award will take place at the Detroit Athletic Club on Oct. 15 as part of the 38th Annual Recognition and Awards Program.
"I want to thank Wayne State University and the board of the Mike Ilitch School of Business for recognizing me with this award," said Appleby. "It is even more special given the enormous impact Mr. Ilitch had in our sports and entertainment profession over the years."
Appleby created the USPBL in 2015 and three professional baseball teams, Birmingham Bloomfield Beavers, Eastside Diamond Hoppers and Utica Unicorns, began play in 2016 at Jimmy John's Field in historic downtown Utica. The league added a fourth team in 2017, the Westside Woolly Mammoths. The league continues to set attendance records, selling out 61 of 75 games this season, and works hard at creating a premium experience for each and every fan that walks through the gates.
One of the greatest accomplishments of the USPBL has to be the 25 players that have signed with Major League Baseball organizations. Many of the players that compete in the USPBL would not have been playing anywhere, so the league has become a great opportunity for those players that are overlooked by the draft.
The latest player to sign with a MLB organization, Jesse Stinnett agrees. Stinnett is pitching for the Colorado Rockies affiliate in Arizona.
"I want to thank the USPBL for giving me the opportunity to continue my career and get showcased to affiliated scouts. I can't thank Mr. (Andy) Appleby, Justin Orenduff, and Skip Johnson (Jim Essian) enough for believing in me. I could not have achieved this without the help of the USPBL and the work Mr. Orenduff put in with me."
Appleby, Chairman and Chief Executive Officer of General Sports and Entertainment, LLC, and Founder of AppleTree Advisory, LLC has more than 30 years of sports management experience. Since founding General Sports in 1998, Appleby has led the effort to develop all of its operational divisions, subsidiaries and affiliated entities, as well as having created the General Sports Foundation. He was awarded the prestigious Ernst & Young Entrepreneur of the Year Award in 2002. Under Appleby's leadership, General Sports has had a very strong rise into the upper echelon of the sports and entertainment industry.
#USPBL