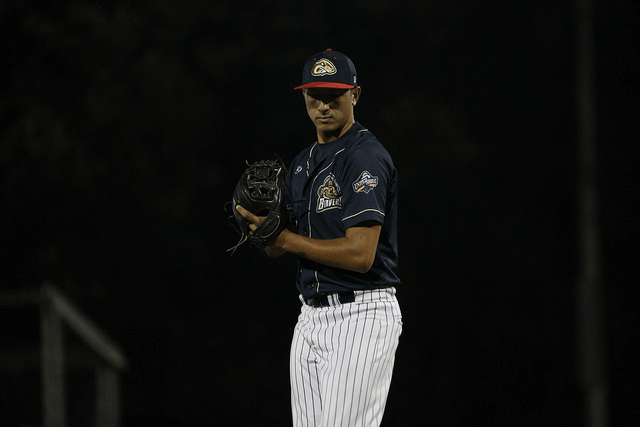 All They Do is 'Wynne'; Beavers One Game Away from Finishing With Best Record
September 5th, 2017
By: Tyler Curran
September 1st, 2017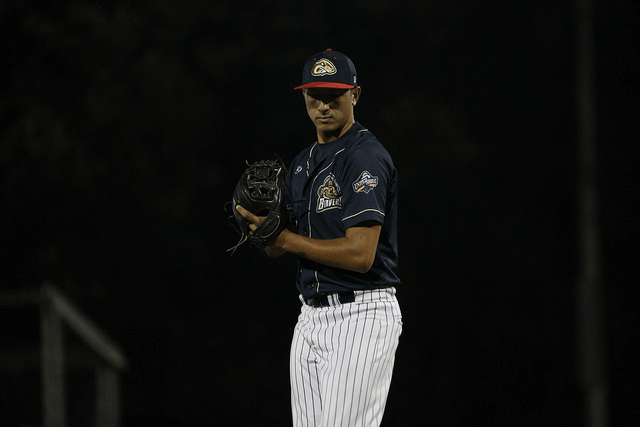 Utica, MI- The Westside Woolly Mammoths met the Birmingham Beavers on Friday night at Jimmy John's Field. Spectacular pitching was the story of the game as Randy Wynne started the game for the Beavers and faced off against Travis McQueen for the Mammoths.  There was definitely a hint of playoff atmosphere in the game.
"My arm felt pretty good pregame. Last week I was late getting out to warm up and felt rushed, so today I made sure I got myself prepared," Wynne said.
The Beavers were able to help Wynne early, tabbing a run on a Christian Helsel sacrifice fly in the bottom of the first, scoring Brandon Rawe. They would come back again in the second to record another run on a sacrifice fly, this time from left-fielder Daniel Oliveri. Beavers went ahead 2-0 but it didn't take long for the Mammoths to respond as Jalin Lawson roped a line drive home run over the left field wall in the top of the third inning. That would be it for the offense on both sides as the pitching controlled the rest of the way.
Wynne had a bit of vengeance on his mind, as the Mammoths were able to get to him in his last appearance so he developed a game plan to keep them off balance. He threw his curveball more frequently than normal and it was working. He was able to mount 11 strikeouts in the game and finished a complete game with a victory and only one run allowed. He also hit 92 mph in the ninth inning, showing the longevity he has developed from exemplary pitching mechanics.
McQueen and the Mammoths defense was solid as well, as McQueen finished eight complete innings allowing just six hits and two runs (one unearned). There just wasn't enough offense to go around for the Mammoths and Wynne's performance helped secured a Beavers win.
The final score was 2-1 as the Beavers have to win one more game or hope for an Eastside Diamond Hoppers loss and they will finish with the USPBL's best record. When the pitching is as dominant as it was tonight it wouldn't take much time to achieve the record. The Beavers are now 28-23 and the Mammoths slide to 21-28.