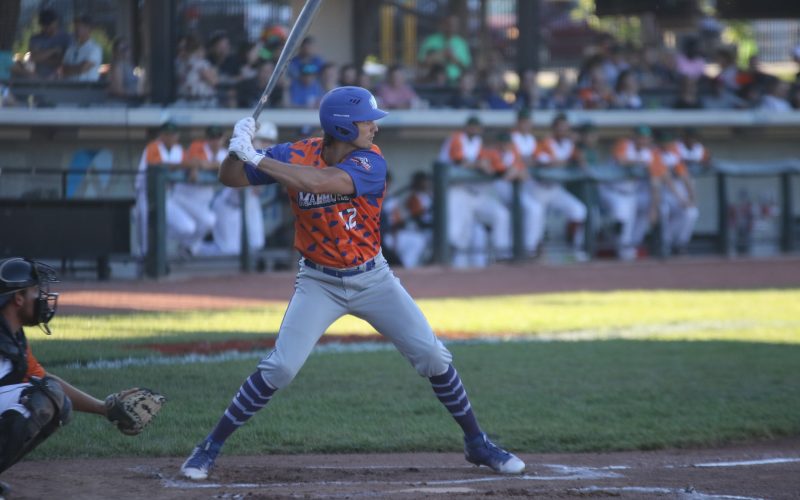 Alaskan Summer to Professional Baseball
August 15th, 2018
By Justin Frommer
USPBL Intern
Westside Woolly Mammoths outfielder Ethan Wiskur struts up to the plate for his fourth at bat against the Utica Unicorns. He cocks the bat up over his head and twirls it around in a circle. His quick hands induces a quick swing through the strike zone. Wiskur connects and drives the ball deep into right field and strides into second base with a double.
A near miss of another home run.
Wiskur has been the epitome of an athletic, power hitter in his first full season in the United Shore Professional Baseball League. He showed it that Friday night. He showed it in the USPBL Home Run Derby finishing as the runner-up, and frankly has shown it since he picked up a baseball bat.
In college, Wiskur's power was like a hidden gem waiting for a league or team to come across it. Playing at Hillsdale College, a small NCAA Division II liberal arts school in southern Michigan, athletic promise doesn't travel very fast.
Wiskur's path to the USPBL is unlike many of the players that have spent time in the independent professional baseball league.
He didn't expect playing in one of the northernmost cities in the United States would give him the best opportunity to get his name out in the baseball world.
It was during the 2016 summer, in between his junior and senior collegiate season, that Wiskur played in secluded stadiums with mountain landscapes suffocating the outfield backdrop in the Alaska Baseball League.
"There are a couple of guys that I went to high school with, at local Flint Powers Catholic, that both played out there for the Chinooks, the same team that I played for," Wiskur said. "I filled out an application, tried out, and made a team."
To the public, the amateur collegiate five-team league is pretty unknown. To the baseball world, it is a perfect league to spend a summer and develop on the field.
"It's actually one of the top collegiate leagues in the country," Wiskur said.
The list of talent to come out of the Alaska Baseball League stacks up against any other collegiate league in the nation. The likes of Barry Bonds, Tom Seaver, and Randy Johnson have had stints on their way to the Major Leagues.
"Not many people, you know, think about that since the league is in Alaska," said Wiskur. "I knew it was going to be a competitive league and when I went out there I was expecting to see some top level ballplayers and it was exactly what I expected it to be, and more."
To the citizens of Alaska, this league is their Major League Baseball team. And despite rarely coming even close to filling up the stadiums, the fans are as faithful to their teams as any other baseball league in the U.S.
"They were very passionate," Wiskur said. "They don't really get much baseball out there, so coming to these games, it's like coming to a USPBL game or a Detroit Tigers game for them."
Wiskur traveled hours across the state to play games in front of hundreds, sometimes a couple thousand fans. That is the type of attendance they got in cities like Chugiak, a neighboring city to Anchorage with a population of 8,300 and the home for Wiskur's Chugiak-Eagle River Chinooks.
However, no matter the setting, no matter the attendance, Wiskur was up to the task against some of the top collegiate talent in the country, putting up strong offensive numbers.
In 46 games, he collected 44 hits and drove in 25 runs while batting a crisp .259. His five home runs ranked second in the league, and started to give him looks by other leagues in the country. One of those leagues, the USPBL, was able to take advantage and pounce on the opportunity to sign him.
"I got to compete against NCAA Division I baseball players that were out there trying to do the same thing as I am which is get drafted and signed by an affiliate," Wiskur said.
Midway through his second season in the USPBL, Wiskur's power has professional scouts chomping at the bit to bring him into their organization. He has a pro ready body and his strength with the bat is tantalizing. And if Wiskur gets the chance to show an MLB organization what he can do, he knows what he can bring to the table.
"I'm fast on my feet, you know, I got a strong arm,  and I've got power," said Wiskur. "I think I would bring a lot to the table and would be willing to work my butt off until I get there."
#YourSummerDestination