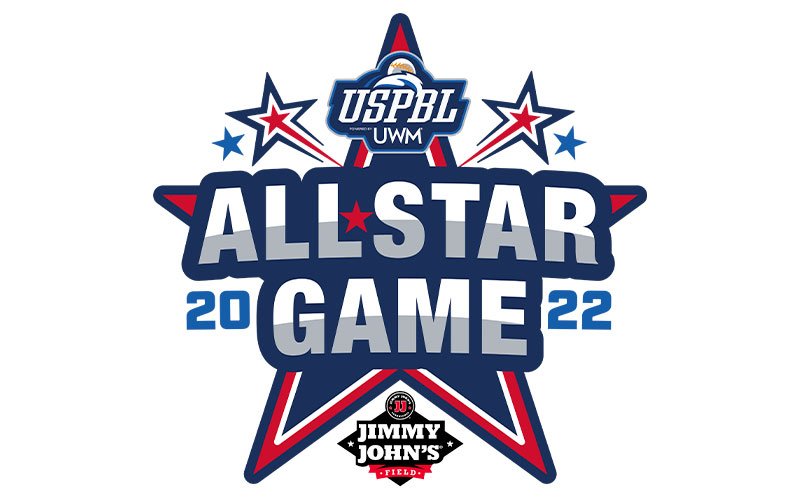 2022 All-Star Teams, Home Run Derby Lineups Announced
July 6th, 2022
ROCHESTER, Mich. – The ultimate collection of star power in the USPBL powered by UWM was announced by Director of Baseball Operations Shane McCatty on Wednesday. The Stars of the USPBL will compete in the All-Star Game presented by F45 Training on Saturday at Jimmy John's Field in historic downtown Utica, Mich., immediately following the Home Run Derby at 5:30 p.m.
The Utica Unicorns sit in first place at the midpoint of the season, checking in at 13-3. All four teams have combined for 47 home runs so far this season.
The pool of players was selected by the Baseball Operations Staff. All-Star teams were decided by captains Ari Sechopoulos and Drue Galassi. Players were picked in a one-by-one alternating style format.
The 2022 Home Run Derby lineup will feature Utica Unicorn Ari Sechopoulos, Eastside Diamond Hoppers Joe Burke and Nick Kreutzer, Westside Woolly Mammoths Buddy Dewaine Jr. and Greg Vaughn Jr., and Birmingham Bloomfield Beaver Dakota McFadden.
The Home Run Derby consists of three rounds. The first round will feature all six participants. The top four hitters with the most home runs will move on to round two. Top two hitters with the best cumulative score (from round one and round two) will compete in the final round to be named the 2022 Home Run Derby Champion.
The Home Run Derby will be carried on the USPBL's Networks family of stations including YouTube and Facebook.
#SummerNightsUnderTheLights