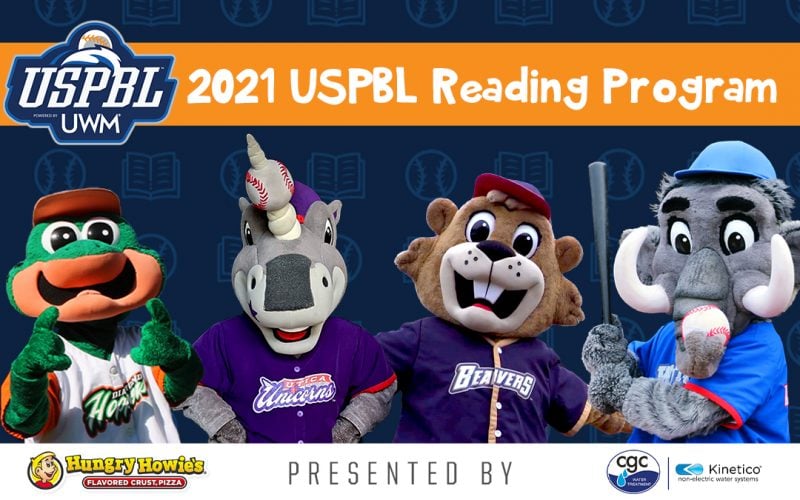 2021 USPBL Reading Program presented by CGC Water and Hungry Howie's
January 4th, 2021
Grab your favorite book because it's time for the USPBL Reading Program!
The USPBL and their four mascots, Lancelot, Ribbi, Woolly, and Buzz, are gearing up for another fun year of the USPBL Reading Program. This is a free, incentive driven reading program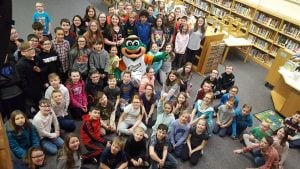 designed to encourage students to read more. The objective for each student is to "hit a home run" by meeting certain goals or requirements during the month of March. This year, the USPBL is helping educators and families bring back the fun by offering two different versions of the program; participating in the classroom or at home!
How can we participate?
To adapt with the changing times, the USPBL has created ways for both schools and parents at home to provide the incentive to their students.
The USPBL Reading Program in the classroom: This option follows the traditional version of the USPBL Reading Program where students will work to complete reading goals set by the school or individual classroom teachers to earn their ticket. This can be reading a certain amount of minutes or a variety of books; the USPBL just wants to help your students celebrate their reading achievements! Schools who enroll in this option will be guaranteed a zoom session with one of our lovable team mascots. Have Lancelot, Ribbi, Buzz, or Woolly join in on the class fun where we will do a short activity and talk about reading. At the end of March, your school contact will be sent the necessary information to distribute to the parent/guardians of the students who completed their goals.
The USPBL Reading Program at home: Feel this is something you would like to offer to your school's community but don't have time to facilitate it? We'll do that for you! We're offering an option where parents can sign up to participate with their students at home to help encourage them to read. If enrolled in this option, schools will be given all the details to share with its families and we'll take care of the rest. Parents who enroll in this program will receive weekly content and mini challenges to do with their students. At the end of the month, parents will be emailed information on how to redeem their child's ticket offer and come out to a game!
When Can We Start?
Both versions of the 2021 USPBL Reading Program will kick off on the first day of National Reading Month – March 1st and conclude March 31st.
Teachers, please fill out the enrollment form below and you will be sent information on the specific option you chose.
Questions? Contact Community Relations Manager Heather Cook at hcook@uspbl.com or 248-266-8264.