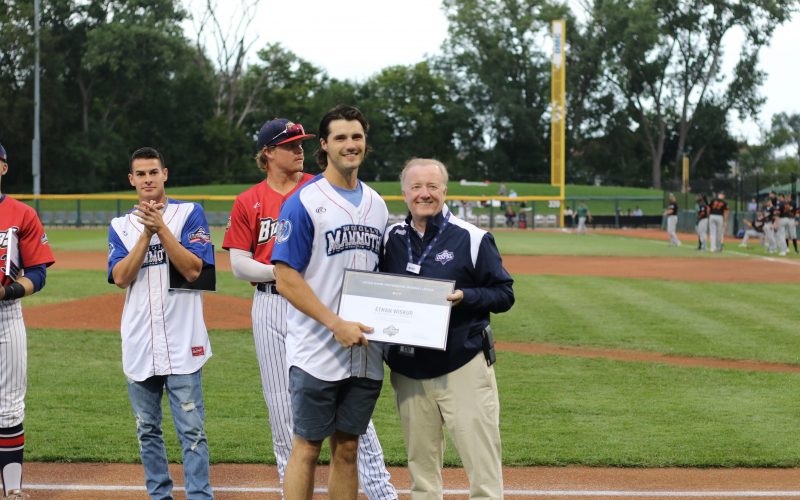 Westside's Ethan Wiskur Named MVP
September 7th, 2019
ROCHESTER, Mich. – Westside Woolly Mammoths Ethan Wiskur was named Most Valuable Player of the United Shore Professional Baseball League, announced by the league office. Wiskur, a native of Clio, Mich., wins the honor for the second straight season and broke the all-time USPBL record with 26 home runs.
Wiskur led the Woolly Mammoths to the top seed and into the USPBL Championship Game on Sunday. He led the league with 14 home runs, 46 runs batted in and .600 slugging percentage. Wiskur finished fourth during the regular season with a .309 batting average.
The Mammoths' Matt Cronin was named Pitcher of the Year after posting a perfect 7-0 record. A native of Framingham, Mass., Cronin posted a league-best 2.30 earned run average, which is second all-time in USPBL history for a starting pitcher.
Earning Defensive Player of the Year accolades was Woolly Mammoths' utility player Sonny Cortez. A native of San Pedro, Calif., Cortez did not make a single error this season after playing half the season in the outfield and the second half at second base. He matched the single-season league record with 44 runs scored and hit .309.
Earning the Most Improved Player Award was right-handed pitcher Donald Goodson of the Unicorns. Goodson, a native of Detroit, led the league by holding opponents to a .169 batting average and finished second with a 2.31 ERA. He has a fastball in the mid-90s after spending most of his career as a shortstop.
The Unicorns' Ty Hensley was given the USPBL Sportsmanship Award. A former first-round draft pick of the New York Yankees, Hensley set a personal-best in professional baseball with nearly 70 innings pitched this season, and led the USPBL with 72 strikeouts. He will make his final start of the season on Saturday in the semifinals of the USPBL Playoffs.
#MakeTimeForFun
#YourSummerDestination