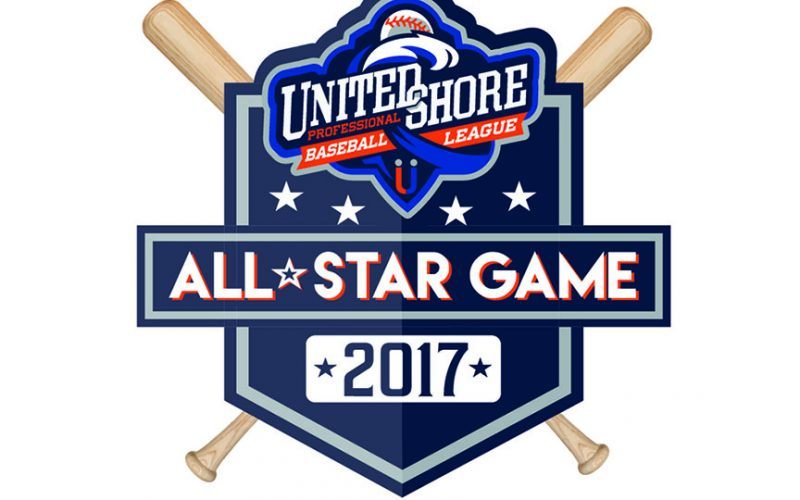 Week in Review: All-Star Weekend
July 9th, 2017
By Steve Marowski
Utica — On Saturday, July 8, the USPBL hosted the second annual All-Star Game and its inaugural Home Run Derby. Birmingham-Bloomfield Beavers first baseman Nic Wilson won the derby on the last swing of the competition, and the East and West tied in a seven-inning ballgame, 2-2.
Mammoths relief pitcher Corey Kimber was the All-Star Game MVP. In the bottom of the seventh, Kimber came in and struck out the side with an electric fastball reaching 97 mph.
Thursday, July 6: Birmingham-Bloomfield Beavers 7 vs. Eastside Diamond Hoppers 3
With a five-run fifth inning which included a two-RBI triple from catcher Robert Lucido, the Beavers defeated the Diamond Hoppers, 7-3.
Lucido finished the day 2-3 with a walk, a run scored and two RBI's.
Diamond Hoppers first baseman Esteban Gomez was 1-4 with a home run and an RBI.
Friday, July 7: Utica Unicorns 5 vs. Westside Woolly Mammoths 4
In a hard-fought game between the Unicorns and Woolly Mammoths, the Unicorns came out on top with a 5-4 victory.
Unicorns starting pitcher Randy Dobnak threw seven innings of three-hit baseball and didn't allow a run. Second baseman Connor Reynolds was 3-4 with two RBI's in the victory.
The Unicorns took a five-run lead into the eighth inning, but the Mammoths scored four runs on a bases-loaded walk by Kent Blackstone, a two-RBI double by Alex Abbott and an RBI groundout by Ethan Wiskur.
However, the rally fell just short as Unicorns reliever Sean Gustin came in for the save in the ninth inning.
Saturday, July 8: USPBL All-Star Game and Home Run Derby
In the first-ever USPBL Home Run Derby, Nic Wilson took home the victory as he defeated John Menken in the final round. Wilson won on the final swing of the competition.
As for the game, the East and West were tied at two in a seven-inning ballgame. Beavers shortstop DJ Martinez hit a two-RBI single to put the West up 2-0. However, in the bottom of the fourth, Chris Cruz hit an RBI double and Brett Balkan had an RBI groundout to tie the game at two.
Sunday, July 9: Eastside Diamond Hoppers 7 vs. Westside Woolly Mammoths 2
With seven runs and 15 hits, the Diamond Hoppers defeated the Woolly Mammoths, 7-2.
Kam Stewart, Esteban Gomez and Chris Power were each 3-5 on the day. Power and Gomez each had two RBI's and Stewart scored three runs in the victory.
Diamond Hoppers pitcher Matt Rodgers threw 4.1 innings in relief and allowed just two runs while striking out four.
Upcoming Games
Thursday, July 13, Birmingham-Bloomfield Beavers vs. Eastside Diamond Hoppers, 7:05 p.m. (Teen Angels/Michigan State Night/Thirsty Thursday)
Friday, July 14, Westside Woolly Mammoths vs. Utica Unicorns, 7:05 p.m. (Fireworks Friday presented by Metro PCS)
Saturday, July 15, Eastside Diamond Hoppers vs. Utica Unicorns, 7:05 p.m. (WCSX Classic Rock Saturday/Girl Scouts Sleepover)
Sunday, July 16, Westside Woolly Mammoths vs. Birmingham-Bloomfield Beavers, 1:35 p.m. (Buzz Bobblehead Giveaway)
Standings
1. Eastside Diamond Hoppers 14-11
2.Utica Unicorns 13-12
3. Westside Woolly Mammoths 12-13
4. Birmingham-Bloomfield Beavers 11-14