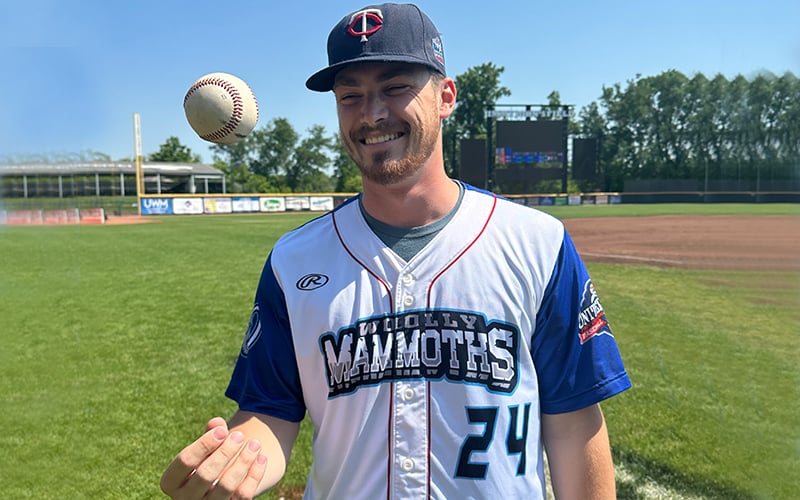 USPBL Pitcher Kyle Bischoff Signed by Minnesota Twins
May 31st, 2023
UTICA, Mich. — The United Shore Professional Baseball League (USPBL powered by UWM) today announced that Macomb native Kyle Bischoff, a pitcher for the Westside Woolly Mammoths in 2022 and 2023, has been signed by the Minnesota Twins organization. Bischoff is the 48th USPBL player to be signed by a Major League organization since the start of the USPBL's inaugural season in 2016.
Bischoff, a 23-year-old, 6'1", 215 lb., right-handed pitcher from Macomb, Michigan, pitched 18.2 innings with 19 strikeouts for the Westside Woolly Mammoths in the 2022 baseball season. Bischoff earned five saves in the 18 games he appeared. Transitioning to a starting pitcher for the 2023 season, Bischoff went 5.0 innings, giving up two hits, no runs, no walks and struck out eight in his first game, earning him Pitcher of the Week honors.
Bischoff played collegiate baseball at Michigan State University before signing with the Mammoths in 2022. He also serves as the Pitching Coach at Macomb Community College, alongside his Manager Taylor Grzelakowski and Utica Unicorn Assistant Manager Nick Caruso.
Bischoff attributed his success to his experience in the USPBL, saying, "I'm extremely excited and humbled to join the Minnesota Twins Organization. I can't thank the USPBL enough for giving me my first shot at professional baseball. I've built a lot of experiences during my time with the USPBL that I will carry with me for years to come." Bischoff added, "With the help of Taylor Grzelakowski and a number of other teammates and coaches I was able to reach my goal. I will forever be thankful for what everyone in the USPBL has done for me. I'm excited to get to work!"
Taylor Grzelakowski, Manager of the Mammoths, said of Bischoff, "Kyle worked hard in the off-season to enhance his skill set. His desire to understand his craft and work hard at a strength and conditioning program led him to be a top prospect in the league. He took initiative and I couldn't be more proud!"
About United Shore Professional Baseball League
The United Shore Professional Baseball League (USPBL), now known as the USPBL powered by UWM, is an independent professional baseball league that serves as a developmental league for Major League Baseball. The league plays on the state-of-the-art ballpark named Jimmy John's Field located in downtown Utica, Michigan, which opened in 2016. The USPBL features four teams – the Utica Unicorns, the Eastside Diamond Hoppers, the Birmingham Bloomfield Beavers, and the Westside Woolly Mammoths – that play at Jimmy John's Field. Over the first seven years of operations, the USPBL has had 48 players signed to contracts by Major League Baseball organizations, and has now seen four former players make it all the way up to a Major League roster. Additional teams and ballparks will be added in future years.
#ThePlaceToBeIn2023