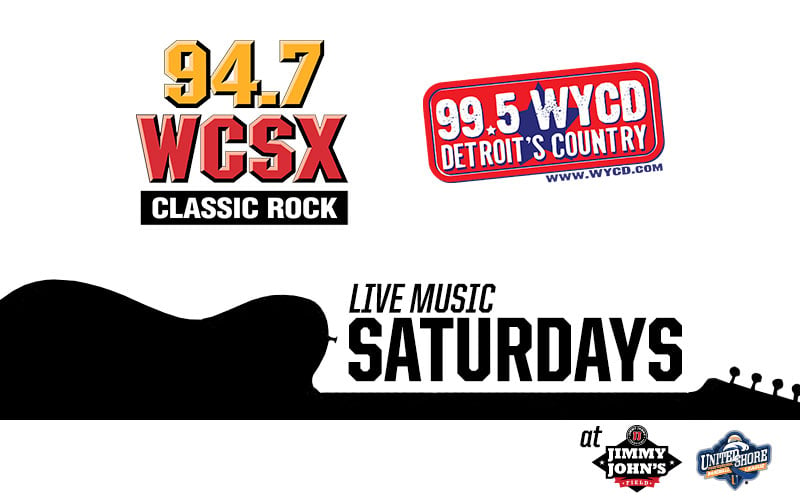 USPBL Partners with 94.7 WCSX and 99.5 WYCD
April 2nd, 2018
ROCHESTER, Mich. – The United Shore Professional Baseball League is proud to announce their continuing partnerships with 99.5 WYCD, Detroit's Best Country, and 94.7 WCSX for Live Music Saturdays this season at Jimmy John's Field.
"These are two of the highest rated radio stations in metro Detroit and we are excited about continuing our partnership with WCSX and WYCD," said Scott MacDonald, Vice President of Marketing and Public Relations. "The stations do a great job promoting the games, sending personnel out to the ballpark and booking top-notch bands to perform on the Dana St. Clair Stage."
WCSX Classic Rock Saturdays will start on the first Saturday of the season, May 12, and run through July 14. Personalities from the radio station will be at the ballpark, serving as in-game host, running contests and interacting with fans.
"No one delivers a better baseball experience than the USPBL" said Jerry Tarrants, Program Director for WCSX. "We're honored to bring back our classic rock flavor to that experience."
Country Music Nights will be hosted by 99.5 WYCD radio personalities during four games this season with live performances from country artists. The station will promote all the nights at the ballpark, including utilizing Detroit's top sports station 97.1 The Ticket.
"Jimmy John's Field is not only a fabulous place for baseball, but we're proud to partner again on some awesome Country Concert events for all of our fans," said Tim Roberts, Vice President Music Programming and Program Director.
Below are the game dates and bands for 99.5 WYCD Country Music Nights and 94.7 WCSX Classic Rock Saturdays:
99.5 WYCD Country Music Nights:
June 23 – Derek Winters Band
July 28 – Cadillac Cowboys – Salute to Garth Brooks
August 25 – Alan Turner and the Steel Horse Band
September 8 – Todd Michael Band
94.7 WCSX Classic Rock Saturdays:
May 12 – Journey Tribute Band featuring Captured Detroit
May 19 – Cream Tribute Band featuring Takes of Cream
May 26 – 80's Night featuring Square Pegz
June 2 – Bob Seger Tribute Band featuring Live Bullet Detroit
June 9 – Detroit Doors Tribute Band featuring The Detroit Doors
June 16 – Led Zepellin Tribute Band featuring Laughing Madmen
June 30 – Eagles Tribute Band featuring Motown Eagles
July 7 – Tom Petty Tribute Band featuring Teddy Petty and the Refugees
July 14 – AC/DC Tribute Band featuring Let there be Rock
Single-game tickets are now on sale at the Box Office and online. To purchase tickets to 94.7 WCSX Classic Rock Saturdays and 99.5 WYCD Country Music Nights, please click here.
#YourSummerDestination