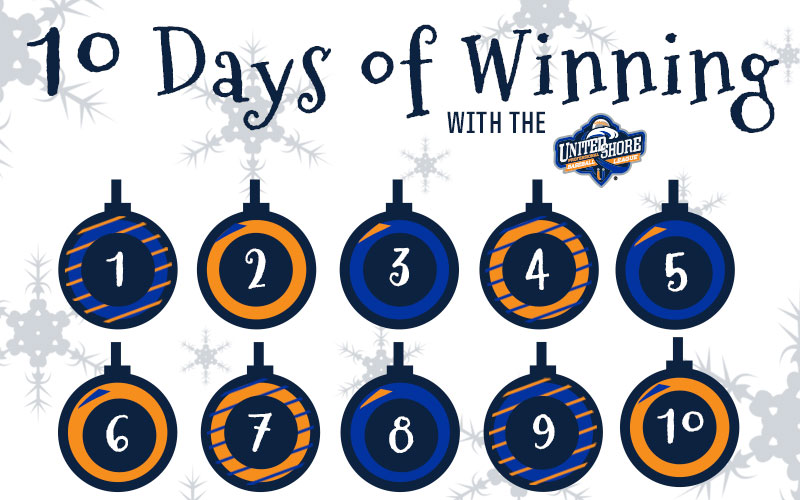 USPBL Launches 10 Days of Winning
November 30th, 2018
ROCHESTER, Mich. – The United Shore Professional Baseball League announces 10 Days of Winning, starting on Monday, Dec. 3 and running through Thursday, Dec. 20. The promotion includes creative experiences for fans to win while picking up their favorite season ticket package, holiday gift packs, booking a group outing or suite rental.
Fans will be eligible to win opportunities for a pitching lesson with Los Angeles Dodgers first round draft pick and Director of Operations, Justin Orenduff, watch fireworks from the dugout, a 2019 free golf getaway for a foursome to A-Ga-Ming Golf Resort, and even a lunch delivery to your office from your favorite Mascot.
"We are very excited about this new promotion with the idea of rewarding our fans that are committing to the 2019 season with some exclusive experiences," said Vice President of Marketing and Public Relations Scott MacDonald. "There are some great prizes, including guarantees for all promotional giveaways, a Manager's Suite where fans can watch a game from inside the dugout area, as well as a batting practice experience with your favorite team."
The promotion will run until Dec. 20 at Noon, with daily drawings for prizes on 10 consecutive work days, Dec. 7, Dec. 10-14 and Dec. 17-20.
There are several ways for fans to become eligible to win daily prizes:
Season Tickets
10-Game or More Flex Plan ($90 Value or more)
Holiday Gift Pack or 2 Kids' Ultimate Gift Pack Purchases
Merchandise Store ($90 or more, in-store or online)
Cabana Suite Rental (Deposit or Paid in Full)
Founder's Suite Rental (Deposit or Paid in Full)
Group Outing (Deposit or Paid in Full)
Summer Picnic (Deposit or Paid in Full)
Gift Certificate ($90 or more)
To order your tickets package, please call 248-601-2400 ext. 2 or e-mail tickets@uspbl.tempurl.host, to reserve a company outing or summer picnic package please call 248-601-2400 ext. 4 or e-mail groups@uspbl.tempurl.host. For merchandise purchases, click here for online or call 248-923-1963, and for any suite rentals please contact 248-601-2400 ext. 3 or e-mail at suites@uspbl.tempurl.host.
Any fans that have committed to the 2019 season are already eligible to win prizes. The winners will be announced on Facebook, Twitter, and USPBL.com.
The 2019 season will get underway on Friday, May 10 and will run through Sunday, Sept. 8. For a look at the entire schedule, please click here.
10 Days of Winning Prize Schedule (Any purchases made from Dec. 3-20 are eligible)
Week 1
Day 1 – Friday, Dec. 7 – Two JJ, The Field General, Bobbleheads
WINNER: Kenneth Kochajda
Week 2
Day 2 – Monday, Dec. 10 – Pick your favorite team and enjoy a Batting Practice experience for two, hanging with the team, taking batting practice and shagging fly balls
WINNER: Christopher Nahlik
Day 3 – Tuesday, Dec. 11 – Receive one specialty jersey from 2018 (Beatlemania Unicorns jersey / Country Themed Diamond Hoppers jersey)
WINNER: Carol Miller
Day 4 – Wednesday, Dec. 12 – Watch Fireworks from the dugout
WINNER: Sean Dobson
Day 5 – Thursday, Dec. 13 – Guarantee Promotional Giveaway for every game this season that we have a giveaway item
WINNER: Angela Nelson
Day 6 – Friday, Dec. 14 – Pick your favorite Mascot (Buzz, Ribbi, Lancelot, Woolly) to deliver your Jimmy John's lunch to your office
WINNER: Denise Willard
Week 3
Day 7 – Monday, Dec. 17 – Four Front Row Club tickets for any 2019 game (Excludes Opening Day)
WINNER: Jennifer Blackwell
Day 8 – Tuesday, Dec. 18 – Receive a free pitching lesson from former Los Angeles Dodgers first round draft pick and Director of Baseball Operations Justin Orenduff at 2SP Sports in Madison Heights (40 minutes)
WINNER: Brianna Romines
Day 9 – Wednesday, Dec. 19 – Sit next to the teams with a Manager's Suite (16 tickets) and VIP Parking Pass for a game (Game Dates subject to Availability)
WINNER: Kristin Kadau
Day 10 – Thursday, Dec. 20 – A free golf getaway to A-Ga-Ming Golf Resort in Kewadin, Mich., for a foursome, three-night stay, and four rounds of golf (18 holes per day on each course)
WINNER: Michael Johnson
#YourSummerDestination