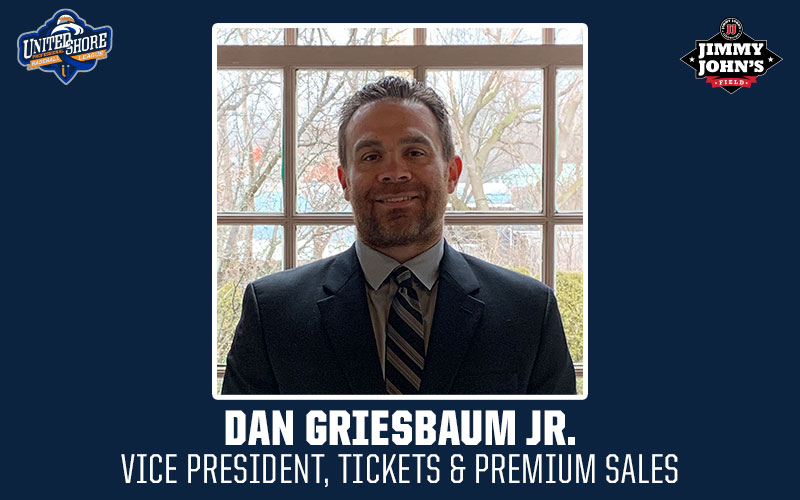 USPBL Announces New Vice President to Front Office Team
January 14th, 2020
ROCHESTER, Mich. – The United Shore Professional Baseball League welcomes a new vice president and announces several promotions to the Front Office staff for 2020. The USPBL is pleased to announce that Dan Griesbaum Jr. has joined its Front Office staff for the 2020 season as Vice President of Tickets and Premium Sales. A true veteran of the Detroit professional sports scene, Griesbaum served in various ticketing and premium seating roles with the Detroit Tigers and the Detroit Red Wings from 2004-2019, earning American League Championship rings in both 2006 and 2012.
"I am very honored and blessed to be joining Andy Appleby and the United Shore Professional Baseball League. As a member of the Tigers and Red Wings front offices, I heard a lot of impressive commentary over recent years about the USPBL, Jimmy John's Field, and the league ownership from our mutual clients. When Andy and Dana Schmitt gave me a tour, I was blown away by the ballpark's premium spaces, sightlines, party pavilions and options for families. I think the future of this league is very bright and I can't wait to see this venue at full tilt on Opening Night," said Griesbaum.
Griesbaum was a standout on the diamond as a player and still holds several records at long-time state power Grosse Pointe South High School. He earned multiple varsity letters and served as the 2004 baseball team captain at Central Michigan University. The Chippewas won the Mid-American Conference Championship in his senior season. While at CMU, he earned a bachelor's degree with a major in both Marketing and Logistics, and a minor in Sports Administration.
In his spare time, Griesbaum serves as an assistant baseball coach at his alma mater, Grosse Pointe South, where they have won two (2) Division One State Championships and have earned six births in the state Final Four during his coaching tenure. A native of Grosse Pointe Woods, Griesbaum resides in his hometown with his wife Jessica and three sons, Daniel III, Blake, and Beckham.
In addition to adding Dan Griesbaum Jr. to the Front Office, the USPBL has promoted eight members of its Front Office team for the 2020 season. The Front Office staff who have been promoted are:
• Katie Page – Senior Director of Marketing & Public Relations
• Brian Piper – Director of Ticket Operations
• Jonathan Hebel – Director of Premium Sales & Service
• Derek Nichols – Director of Groups Sales & Service
• Nick Cowles – Director of Finance & Accounting
• Heather Cook – Community Relations Manager
• Abbey Robinson – Merchandise Manager
• Dan Veit – Corporate Partnership Services Manager
"We are very happy that Dan Griesbaum Jr. has joined our team at the USPBL. He brings a wealth of professional baseball experience to our organization. In addition, we are very pleased that we have been able to retain and promote so many members of our team as they continue their professional development with the USPBL," said Dana Schmitt, Chief Operating Officer of the United Shore Professional Baseball League.
#YourSummerDestination