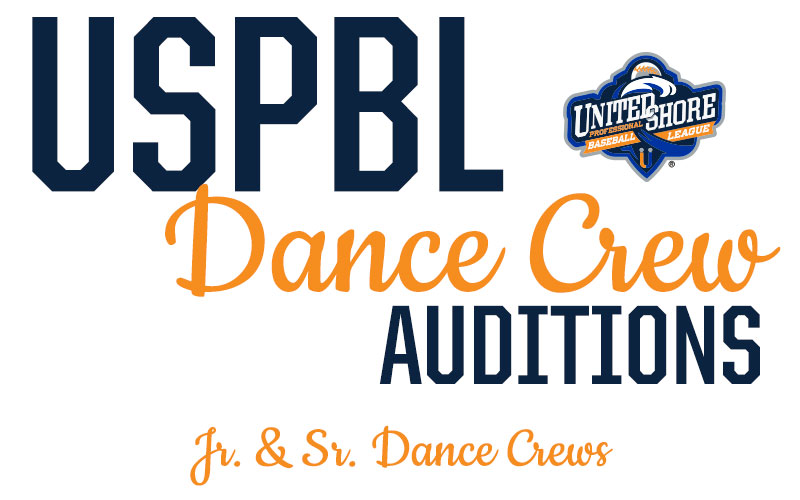 USPBL Announces Dance Crew Auditions
February 16th, 2018
ROCHESTER, Mich. – In an effort to continue to provide a premium experience for all of its fans at Jimmy John's Field, the United Shore Professional Baseball League is launching junior and senior dance crews for the 2018 season. Tryouts for the inaugural teams will be held at Eppler Junior High School in Utica, Mich., on Sunday, March 11 through the USPBL's strong partnership with Utica Community Schools.
"We are always pushing to make an already great fan experience even more magical each year," said owner and CEO Andy Appleby. "With that in mind, we have recently hired the nationally acclaimed Lesley Kay to create our very own Dance Crew that will perform at the ballpark."
There will be a number of celebrity judges at the tryouts to help Entertainment Manager Lesley Kay determine this year's team. One of those celebrity judges will be Eisenhower's Dance Coach Rachelle Kiehle, who helped lead Eisenhower to a UDA National Championship.
Doors will open at 9:30 a.m. and registration will run from 10-11 a.m. There is a $25 registration fee and the USPBL asks all interested dancers to bring their own lunch, snacks and drinks with them. Anyone that participates in the tryouts will have an opportunity to perform at Jimmy John's Field at a later date, and help name the new Dance Crews.
For additional questions, please contact Lesley Kay at lkay@uspbl.com.
#USPBL