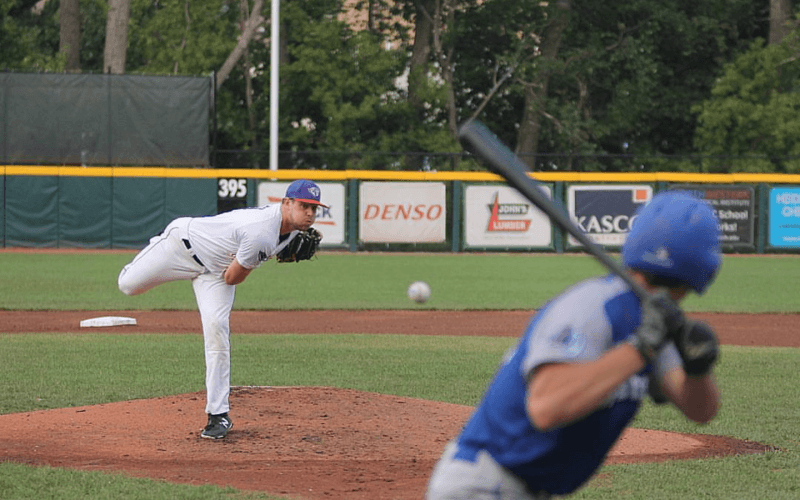 Unicorns Gain Ground on Hoppers with 3-2 Win over Mammoths
August 27th, 2017
August 26th, 2017
By: Tyler Curran
The Utica Unicorns are back at 500 after defeating the Westside Woolly Mammoths on a record setting night for Donny Murray. Murray finished seven solid innings with three hits and ten strikeouts, allowing the bullpen to shut down the Mammoths the rest of the way.
"[I] felt great – strong – going late into the ball game and when I'm throwing 90-91 at the end I'm happy with it," Murray said. Prior to his start tonight he had 97 strikeouts and finished the game with ten pushing him over the century mark. He beat out his own record of 82 in the league from last season.
Mammoth's third baseman Kent Blackstone scored the first run of the game on a solo shot in the third inning. Mammoths infielder, Jalin Lawson added another run to the board on his first homerun of the season since joining the USPBL in early August.
Bobby Webb was the Unicorns answer as he knocked the go-ahead RBI single to take the 3-2 lead in the eighth.
Closer Chris Dula was on the mound when the game ended in a devastating blow to the Mammoths. With 2 outs and runner on first, a fly ball hung over the head of Brett Balkan. After losing his footing, the ball grazed his glove and landed for a hit. The play was far from over as Balkan had some help from left fielder Spencer Ibarra, Mammoths Nick Crouse was out at the plate to end the game.
Unicorns finished the game a 3-2 win.