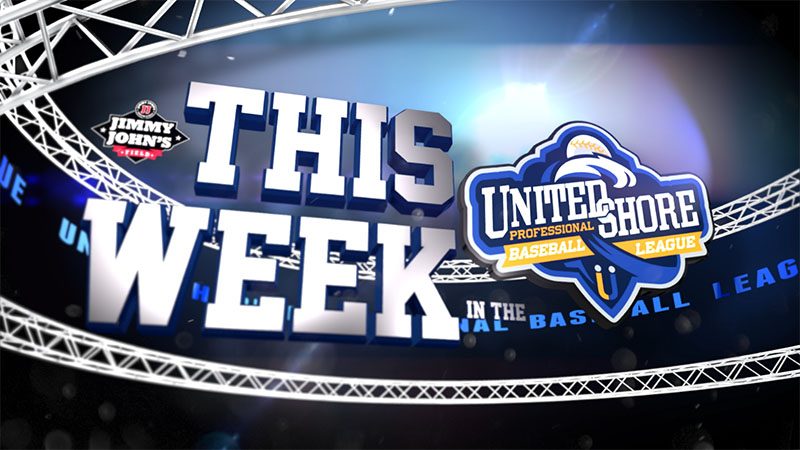 This Week in the USPBL – Episode 12
July 31st, 2019
ROCHESTER, Mich. – The offenses are really taking control in the United Shore Professional Baseball League as the four teams combined for 14 home runs last week, including two grand slams, and the Westside Woolly Mammoths continue their strong second half to highlight This Week in the USPBL.
The Woolly Mammoths are in first place for the first time in their three-year history, and are 16-5 over their last 21 games. The Mammoths boast the league's top team batting average and team pitching, and are led by No. 1 and 2 starters Ben McKendall (4-1, 1.93 ERA) and Matt Cronin (3-0, 2.19 ERA).
The Beavers are right behind the Mammoths in the league standings and continue to score six runs per game. Starting catcher Adam Gauthier ranks third in the league in batting average (.319) and RBI (25). Ross Haffey is tied for the league lead with seven home runs, and Jack Hranec's 10 doubles leads the USPBL.
Opportunity Knocks: Ross Haffey makes the most of his USPBL opportunity
Eastside Diamond Hoppers Pat Adams continues to put one of the most impressive seasons up in USPBL history. A native of Warren, Mich., Adams has 35 walks this season, just three shy of the USPBL single-season record. He leads the league in walks, batting average (.378) and on-base percentage (.525) and has reached base safely in 34 of 35 games played.
There have been five players signed by Major League Baseball organizations this season, matching last year's total. The USPBL has produced 32 players overall that have signed with MLB teams, and former Unicorns' pitcher Randy Dobnak was recently named International Minor League Pitcher of the Week while throwing for the Rochester Red Wings (AAA) in the Minnesota Twins organization. He is currently rated as a top-30 minor league prospect by Baseball America.
#YourSummerDestination
#MakeTimeForFun