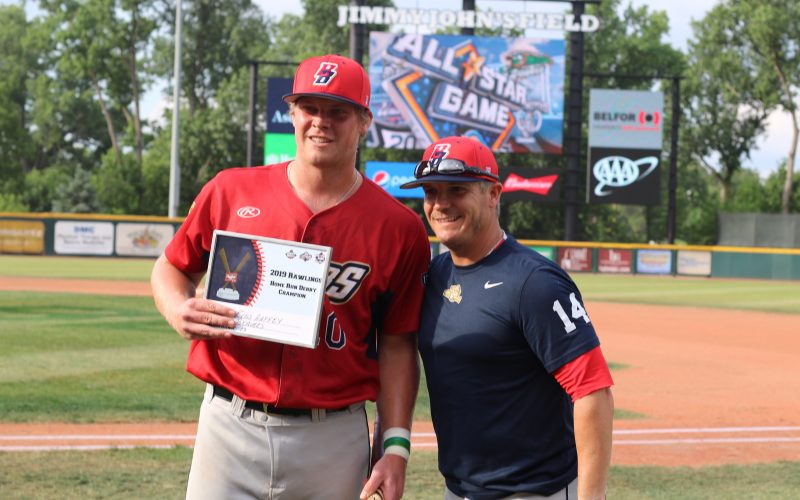 Opportunity Knocks
July 29th, 2019
Everything for Ross Haffey has been an upward battle. Rather oxymoronic coming from a 6-foot-5, 240 pound man.
Haffey worked hard to find playing time in high school as he attended Brother Rice, where 65 players have played collegiately or professionally. When his high school career was winding down, he did not have any offers, so his longtime hitting instructor Chris Newell made a phone call to Miami University.
"I called the coach there and asked him to give him an opportunity and they would not be disappointed," said Newell.
So Haffey was given a walk-on spot at Miami and redshirted as a freshman. He did not play his second year at Miami. Then BOOM, just like the towering home runs he is now hitting in the United Shore Professional Baseball League at Jimmy John's Field, Haffey became a starter for the Redhawks in his third year at the university.
"It was a process of just growing as a college player. Getting there, I had to prove myself to be a starter." Haffey says about his college career.
He would go on to earn All-MAC honors over the next three seasons, including first-team accolades as a senior after smashing 15 home runs. Haffey was getting scouted by Major League Baseball organizations, but nobody drafted him.
The Birmingham, Mich., native was offered a professional contract with the River City Rascals in O'Fallon, Missouri. He played the 2018 season and started with the Rascals in 2019, but was released after just five games and 17 at bats.
"The Frontier League has so much turn over, if you don't perform right away, you're done," Haffey says.
So now what? The professional career was cut short, before Haffey could find a groove. One thing was for sure, he was never going to give up!
When two-time defending USPBL champion Manager Chris Newell learned that Haffey was available, he wasted little time reaching out. He worked with him since he was 11 years old and knew that he had the characteristics that make up a great player and teammate. He just needed that second opportunity that has proven to skyrocket Haffey's growth as a player.
"I knew what type of work ethic he has and what type of family he comes from," said Newell. "He is exactly the type of player that I want on my team. He has a new lease on life and he is certainly making the most of it."
In deed he has. Haffey entered the All-Star Game as one of the top sluggers in the league and was chosen to participate in the Rawlings Home Run Derby. There he displayed his power, easily moving on from round to round before facing off with Eastside Diamond Hoppers Luke Johnson in the final. After Johnson hit 13 home runs in the championship round, Haffey clobbered 14 dingers and launched one of the coolest bat flips we have seen to earn the title, 2019 Rawlings Home Derby Champion.
"I really wanted to win once I was entered in to the home run derby," said Haffey. "To be able to do that in front of my friends and family was really a big deal."
That momentum continues for Haffey. He leads the USPBL in slugging percentage and is tied for the league lead in home runs. Haffey and the Beavers are currently in first place and playing great baseball since the All-Star break.
"My experience in the USPBL has been over and beyond my expectations," said Haffey. "The league puts on such a good show every night and the community always comes out to support. I love seeing people I grew up with coming out to support and enjoy the ballpark."
The Beavers are fighting for their third straight title, trying to become the first independent team to ever do so. Haffey is a big reason why the Beavers are 13-7 over their last 20 games and are tracking to win their fourth straight regular-season title.
"We've been really confident in our hitting and pitching lately and we don't have any reason to believe it's not going to continue down the stretch," said Haffey.
#MakeTimeForFun
#YourSummerDestination
#BuzzinBeavers